By becoming a member, you help CCC&Y continue its mission of "Igniting collective action to cultivate, honor & empower resilient, thriving communities."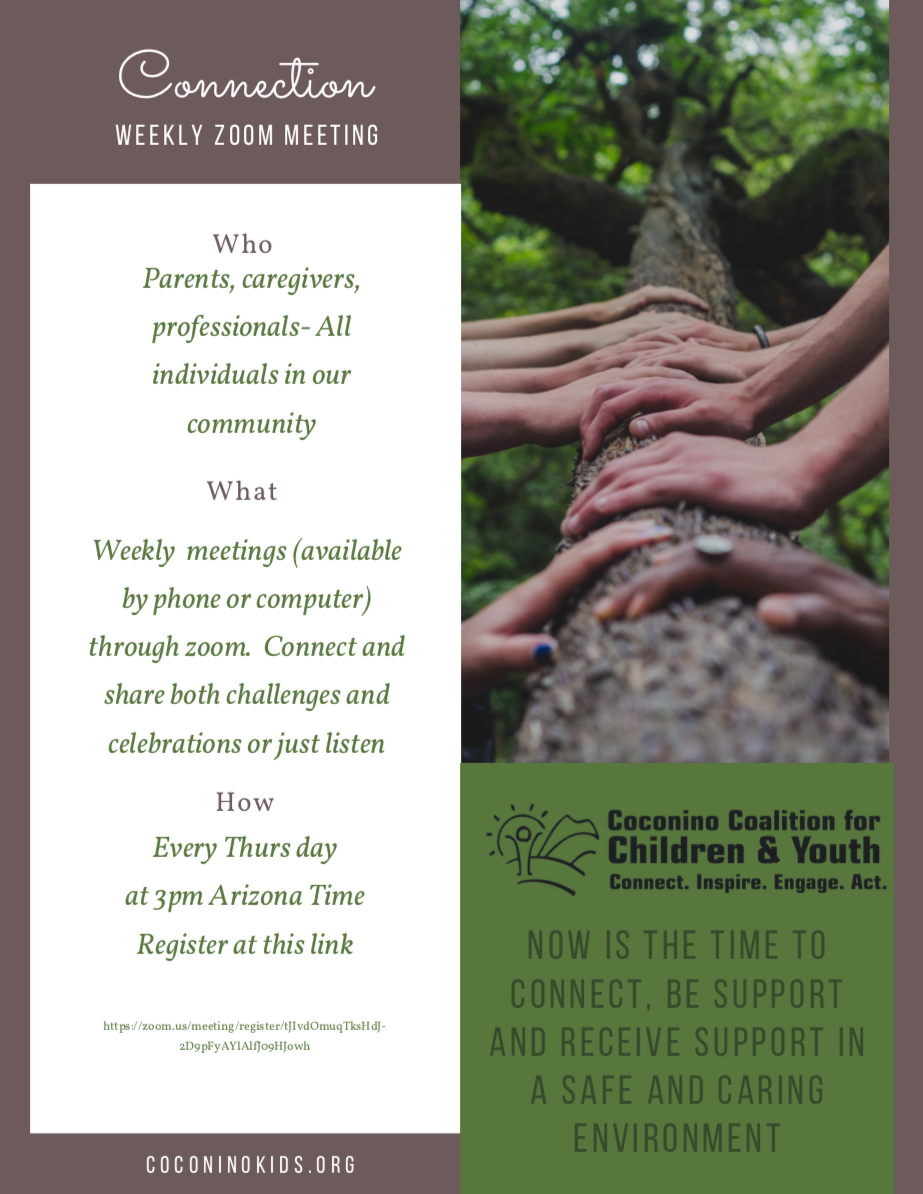 By the Coconino Coalition for Children & Youth
COCONINO COUNTY — As Coconino County and the state of Arizona ease out of the Coronavirus lockdown, many questions remain.
Are we heading for a second wave requiring families in hotspots to once again shelter at home? Will schools reopen this summer or fall? Are parents prepared to meet additional teach-at-home challenges? How have children survived the past few months — are they feeling depressed, isolated, traumatized, both physically and mentally?
So many questions. At the Coconino Coalition for Children & Youth, we have been busy trying to help families, partner organizations and members navigate this new virtual world.
During the past few months we have:
Launched a weekly Family Connection Zoom Meeting at 3 p.m. Thursdays to help parents, caregivers, professionals to connect with one another, share joys, vent some concerns, ask for support, or offer others your support.
Created a series of free web prevention resources. which include "Understanding Adverse Childhood Experiences (ACES)," "Mindfulness for Professionals and Parents," and a "Mindfulness Challenge for Youth." These webinars are ideal development for professionals, and also a great starting point for the community to raise awareness and take action. Parents and youth facing isolation will find these webinars supportive and helpful as well. We have a webinar just for youth.
Created a weekly series of Mindfulness Spotlights, featuring CCC&Y partner Rene RedDay of Building Community, to help everyone take a much-needed time out to de-stress during this challenging time. The column features such topics as "This Too Shall Pass," "Do You Check-in with You?" "You are Enough," "How are you filling your Cup."
CCC&Y, which has led the monthly Tuba City Regional Networking Meeting with partners including the Tuba City Public Library and Coconino County, also has turned the around-the-conference-table meeting to a virtual gathering where members of the community share vital information on caring for families during the coronavirus emergency.
We continue to attend a variety of wellness resource networking meetings (virtually) serving the communities of Fredonia, Grand Canyon, Page and Williams. We have also produced and updated much-needed resource guides for Tuba City/Navajo Nation and Page/Fredonia, along with sharing resource guides created by our other partners. Visit here for more information.
And we continue to continuously update our news website at www.news.coconinokids.org, sharing a variety of virtual events and programs from our partners and community members to help Coconino County remain strong. We share this news with the wider community with our weekly e-newsletter.
Yes, we have been busy and appreciate the help provided by our many partners and members.
Now, more than ever, there is so much to do to help families in Coconino County, and with your help as a supporting member, we can continue to help the community and expand our efforts to meet the ever-changing times. Please visit here for membership options.
Category: Education, Educational Opportunities, Events, General, Health, Programs, Resources