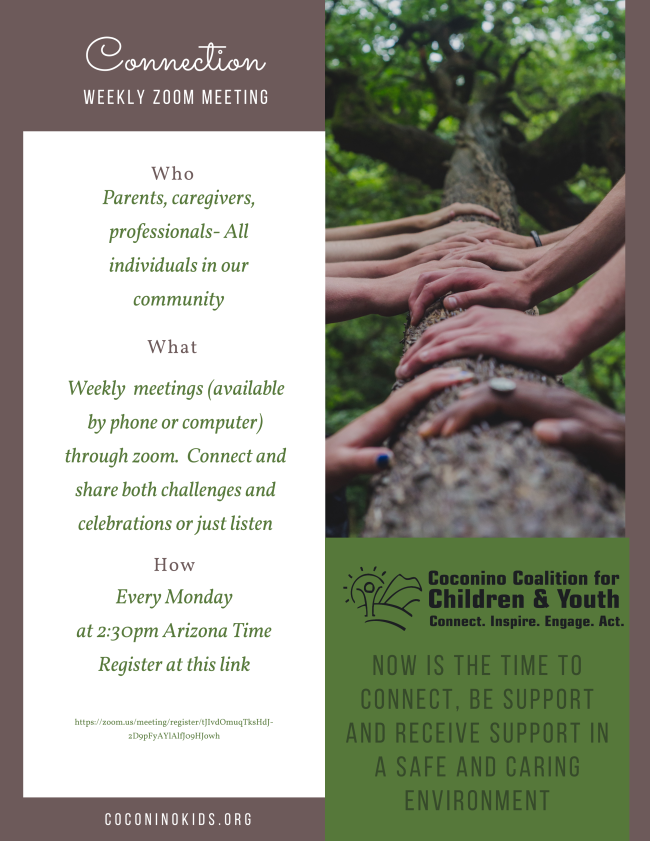 By Rene RedDay, M.E • Coconino Coalition for Children & Youth
"Life doesn't make any sense without interdependence. We need each other, and the sooner we learn that the better for us all."
― Erik H. Erikson
Many of us were taught or developed a belief that depending on others is a weakness. I believe, as do many others, that interdependence is a strength!
I invite you to take a moment for yourself to breathe a few deep breaths. Then ask yourself, how am I feeling? What do I need? Who can help?
Have you ever helped someone without expecting anything in return? How did it feel? Many of us feel good when we are helping others. Why, then, do we often not allow others the opportunity to feel that goodness by helping us?
From my Celtic ancestors to the family I was raised in, interdependence was a high value. My mom built a social support circle around us made up of family, friends, neighbors, and faith community. We were always in the process of giving and receiving. Support was often in child care, emotional support, or offering meals when someone was sick. I am grateful there was never any shame in the asking or ego involved in the giving. It was always seen and felt as mutual support.
Although the coming holidays may be celebrated differently than in years past, I hope we all find new ways to expand our support circle. May we all feel the joy of interdependence and the emotional support it provides. If you find yourself feeling overwhelmed or alone, please turn to your community. Coconino Coalition for Children & Youth (www.coconinokids.org) is a great place to find resources. CCCY Family Connection is hosted every Monday from 2:30-3:30 and is a great way to connect with others countywide. Folks can join virtually or by phone. So, please help support us in expanding community! There is collective strength in connection! Community starts with you!