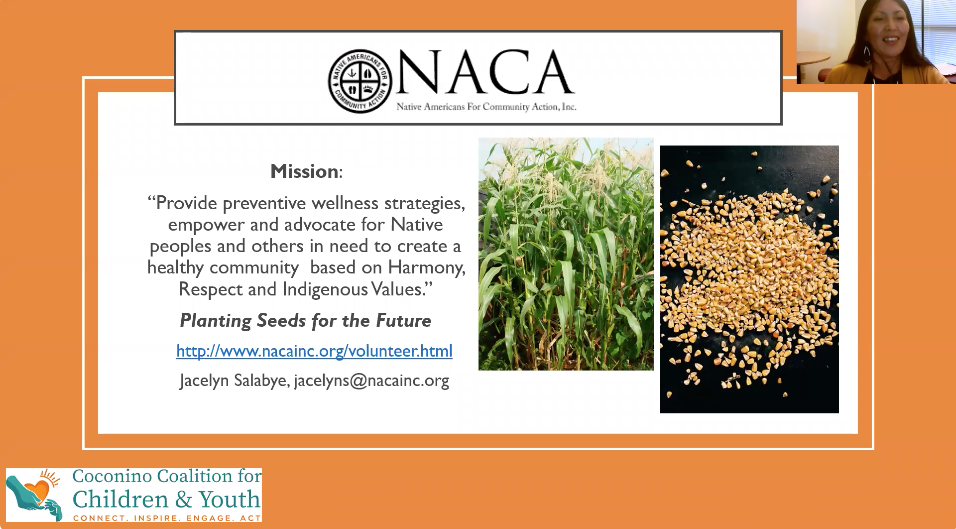 By the Coconino Coalition for Children & Youth
Grant funding was provided by Arizona Department of Child Safety and Health Choice Arizona.
"We know that all youth have dreams, they have goals and visions for their future and we just want to be a part of that to help them realize their full potential," Claire Halligan, program director of Big Brothers Big Sisters Flagstaff, said during the webinar. "So we do this by providing youth in the community with mentors. And we do this in a really structured and intentional way. Youth, who we call 'Littles,' are matched with volunteers, and we call them 'Bigs', and this mentoring relationship is called a 'Match.' We are there every step of the way, which is why we call it professionally supported. Matches are supervised by one of our staff members through the entire life of the Match."
Another organization looking for mentors is the Family Involvement Center in Flagstaff, which seeks to strengthen family voice through connecting and empowering parents, caregivers and youth while ensuring family engagement, voice and ownership in child-serving systems and community involvement.
"We are looking for parents who are interested in being paired with mentors and having that opportunity. Sometimes advocacy and speaking up is really intimidating, so I like to tell parents that if the only thing you ever do is have the ability to sit with another parent in the community maybe, your neighbor or someone that you met at your kid's school — have a cup of coffee and support them through telling your story and being able to listen to them — that's a very important skill and very transforming in our community," said Paula Brunswick with the Family Involvement Center. "And then we are also looking for individuals in our community who have a heart and experience in speaking, public speaking, being able to advocate at different levels of the system. One of the things we like for our parents to eventually learn how to do is to speak to the state legislators or our federal legislators and get the message across about what needs to happen to strengthen families."
The Arizona's Children Association, whose mission is Protecting Children, Empowering Youth and Strengthening Families, is seeking long-term mentor matches with youth to build supportive connections.
"Our mentoring program at ACA is focused on helping youth make those connections with caring adults in the community," said Andrea Merrihew, Young Adult Services Program Administrator. "We really hope this helps the youth we serve to build resiliency and those healthy and supportive relationships that we know can really help them thrive, especially in that transition out of foster care."
— The Coconino Coalition for Children & Youth has a variety of free webinars and and other resources to help youth, parents, community members and organizations. Visit www.coconinokids.org/prevention