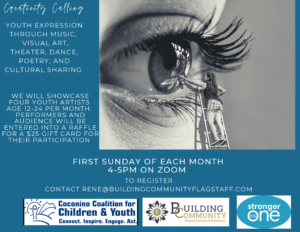 By the Coconino Coalition for Children & Youth
Our circle is open! Our "Creativity Calling" gathering this month was powerful! We had four youth age 5-21 express themselves at this month's Creativity Calling. Our youngest "express-er" was only five years old. She shared a pillow she had sewed with her personal sewing machine. She also shared she was learning to read and shared a book with us. A 15-year-old from Flagstaff began learning drums during Covid. He practices 2 hours a day! We were so grateful he trusted us with his first performance! A 20- year- old from Mishongnovi shared a traditional song and teaching about the snake dance. We were all moved and decided to pause for a more in-depth conversation. One mama in the audience shared we're all having a hard time, but we're not always sure what we need.
We all concurred CONNECTION is what we need! The final performance was a 22-year- old from Walpi. He shared his Kachina and lightning bolt carvings, drawings of a traditional woman, a traditional man, and Powwow dancers. He shared that attending American Indian Arts Institute in Santa Fe has expanded his artistic expression. Currently, he feels most called to draw powwow (intertribal ceremonial gathering) dancers.
We expressed gratitude that whether in Flagstaff, Hopi, or New Mexico, we were grateful we found a connection that we didn't fully realize we were seeking.
We hope you and the youth you live or work with will join our next circle on April 4th!
Details:
All youth 11-24yo:
Sunday, April 4, 4- 5 p.m. on Zoom. If you are a youth artist or arts appreciator and would like to join us, here is the link to register https://us02web.zoom.us/meeting/register/tZUod-iuqj0rHdVEcynavhrHdAur74nySA4e or email rene@buildingcommunityflagstaff.com for the Zoom link.
Please spread the word to the youth and families you serve and share on your social media!