A Virtual Community Experience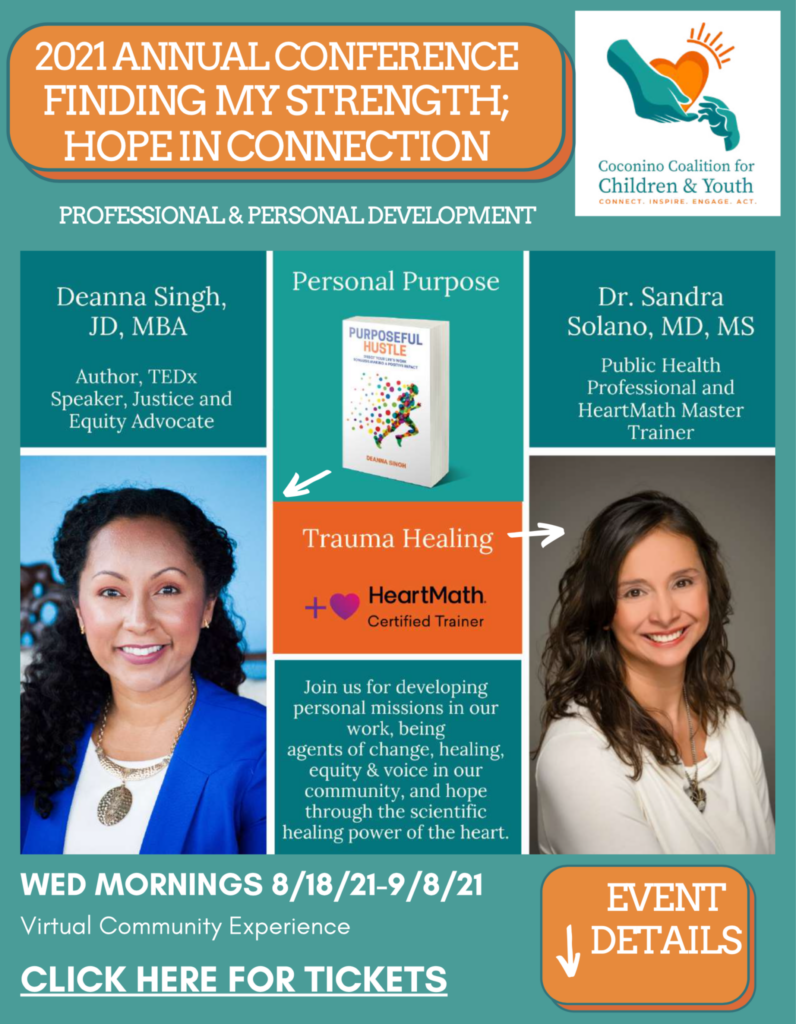 By the Coconino Coalition for Children & Youth
"Finding My Strength; Hope in Connection," is the theme of the 2021 Annual Conference through Sept. 8 presented by the Coconino Coalition for Children & Youth.
Upcoming presentations include:
"How to Win at Failure" by Deanna Singh, JD, MBA from 9 to 10:30 a.m. Wednesday, Sept. 1.
"Talking Circle" by Carrie Dallas from from 10:15 to 11:45 a.m. Wednesday, Sept. 1.
"The Power of Coherent Communications for Personal and Professional Relationships" by Sandra Solano, MD, and James Gillis, BS Certified HearthMath trainers from 9 to 10:30 a.m. Wednesday, Sept. 8.
"Walking with My People" by Ursula Knoki-Wilson, RN CNM from 11:15 a.m. to noon Wednesday, Sept. 8.
Click on the image above for a full description of the Prevention and Healing training sessions.
The First 200 tickets purchased will receive a copy of Deanna's Book — "Purposeful Hustle."
All tickets will receive an awesome care package with exciting goodies.
Email coalition@coconinokids.org for more information.
Click here for tickets.
Category: Education, Educational Opportunities, Events, Programs, Resources