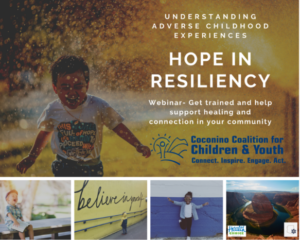 FLAGSTAFF — The Coconino Coalition for Children & Youth continued its support of Flagstaff Unified School District's professional development efforts with a virtual presentation earlier this month.
"Through the support of CCC&Y we were able to provide the opportunity for all staff on our professional development day, August 10th to participate in viewing the webinar: "Understanding Adverse Child Experiences," district officials reported. FUSD reports 1500 professionals were in attendance.
The hour-long webinar helps participants learn how the effects of childhood trauma play out both personally for individuals, along with having tremendous costs for society.
"FUSD is committed to supporting our students, staff and families as we are surrounded by uncertainty as our schools made plans to return to school on August 17th in a remote learning environment," district officials reported. "We know that social and emotional learning (SEL) will be critical to re-engaging students, supporting adults, rebuilding relationships, and creating a foundation for academic learning. As we shift to this new type of learning experience we recognize that there may be impacts on young people's academic, social, emotional, and life outcomes. As a district, we are bringing together administrators, teachers, school staff, families, youth, and community partners to co-create supportive learning environments where all students and adults can enhance their social and emotional competencies and feel a sense of belonging."
CCC&Y has previously presented in-person ACES training sessions to FUSD, to Tuba City Boarding School and the Williams Unified School District. The Coalition was also invited by the Pendergast Elementary School District in Phoenix to support its educational conference by providing this training.
"I am so thankful to be able to help support school districts and look forward to furthering CCC&Y's support across educational systems." said Virginia Watahomigie, CCC&Y executive director."We are also thankful to each and every teacher, staff member, administrator, school district and early learning centers in the county as they develop processes and support during this unprecedented time. I have seen first hand the dedication of these professionals and thank each of them."