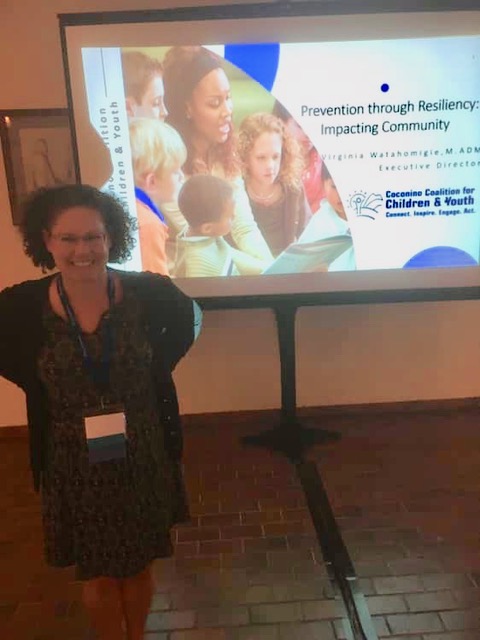 By CCC&Y
PHOENIX — "Prevention through Resiliency: Impacting Community" was the subject of Virginia Watahomigie's presentation at the 25th annual Statewide Child Abuse Prevention Conference, held July 23, 24 at the Wigwam Resort, Litchfield Park.
The conference was presented by Prevent Child Abuse Arizona.
"We must start looking at prevention as a continuum that spans generations, honors historical experiences, and stops punishing trauma behaviors that we are seeing today, said Watahomigie, executive director of the Coconino Coalition for Children & Youth. "The workshop focused on work being done in schools and communities to combine education of the impacts of trauma with simple behavior management, crisis de-escalation skills, and mindfulness techniques in order to promote resiliency in children. The session also explored community action, collective impact, and how to further initiatives through inspiration."
The Conference has become a must-attend event amongst advocates, community leaders, child welfare professionals, volunteers, law enforcement, and policymakers as a summit that produces practical solutions to help keep families strong and children thriving.
This year's conference featured 49 workshops within 11 workshop tracks.
Trauma-Informed Approaches
Wellness & Resilience
Diverse Cultures
Child Welfare
Law Enforcement
Child Development Tools
Programs
Sex Abuse Prevention
Substance Abuse
Family Support
Research & Policy
Some of the sponsors included The Governor's Office of Youth, Faith and Family, the NARBHA Institute, the Arizona Republic, Mercy Care, the Arizona Anti Trafficking Network and First Things First.
Visit https://www.pcaaz.org/cap2019/ for more information.
Category: Advocacy, Child Welfare, Education, Health