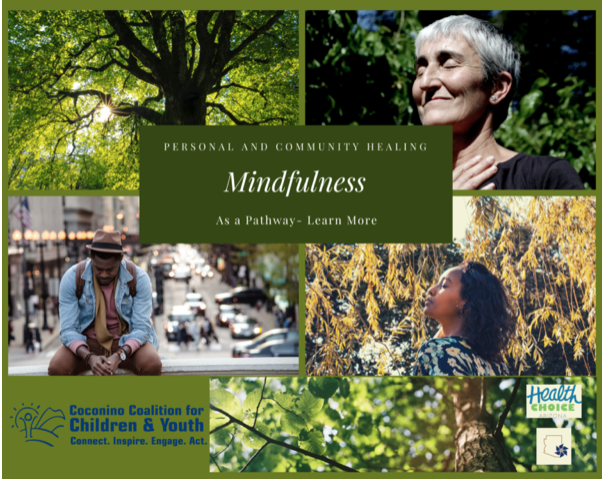 By the Coconino Coalition for Children & Youth
CCC&Y has created Mindfulness for Professionals and Parents, an hour-long free webinar that highlights the importance mindfulness holds for both individuals and for those we are working with. Participants said:
"I felt better immediately at the beginning of the training!"
"Mindfulness is an important part of daily operations! We need to remember to take time for ourselves. I love the acronyms and will share with my NAU students!!!!"
"I found the training to be very relevant at this time in our lives."
CCC&Y has multiple reasons for focusing on mindfulness as a strategy in our community. We know the benefits it has for overall mental and physical health. We know that it is a useful strategy to help with both substance abuse prevention and child abuse prevention. Further, as Ruth King notes,
"When we are unconscious of how we affect each other, we are more likely to cause harm. However, when nonharming is at the forefront of our awareness, it becomes an anchor, a way of reminding us, moment to moment, to pay attention- to live mindfully."
In an effort to address how we treat each other and ourselves we invite you to explore more on this topic. Let's all work toward healing together!
By completing our surveys after watching the webinar, you are assisting us with data collection required for contracts. Additionally, if you choose to leave your information you will receive a training certificate.
CCC&Y has also created the following webinar web resources:
All the webinars and additional information can be found at: https://coconinokids.org/prevention/
There is no charge for the webinars, but we do ask that you consider sharing with others and completing the survey.
Also, be sure to join CCC&Y'S Family Connection Weekly Zoom Meeting at 3 p.m. Thursdays. The meeting is open to parents, caregivers, professionals — All individuals in our community. REGISTER HERE
Category: Education, Educational Opportunities, Health, Programs, Resources