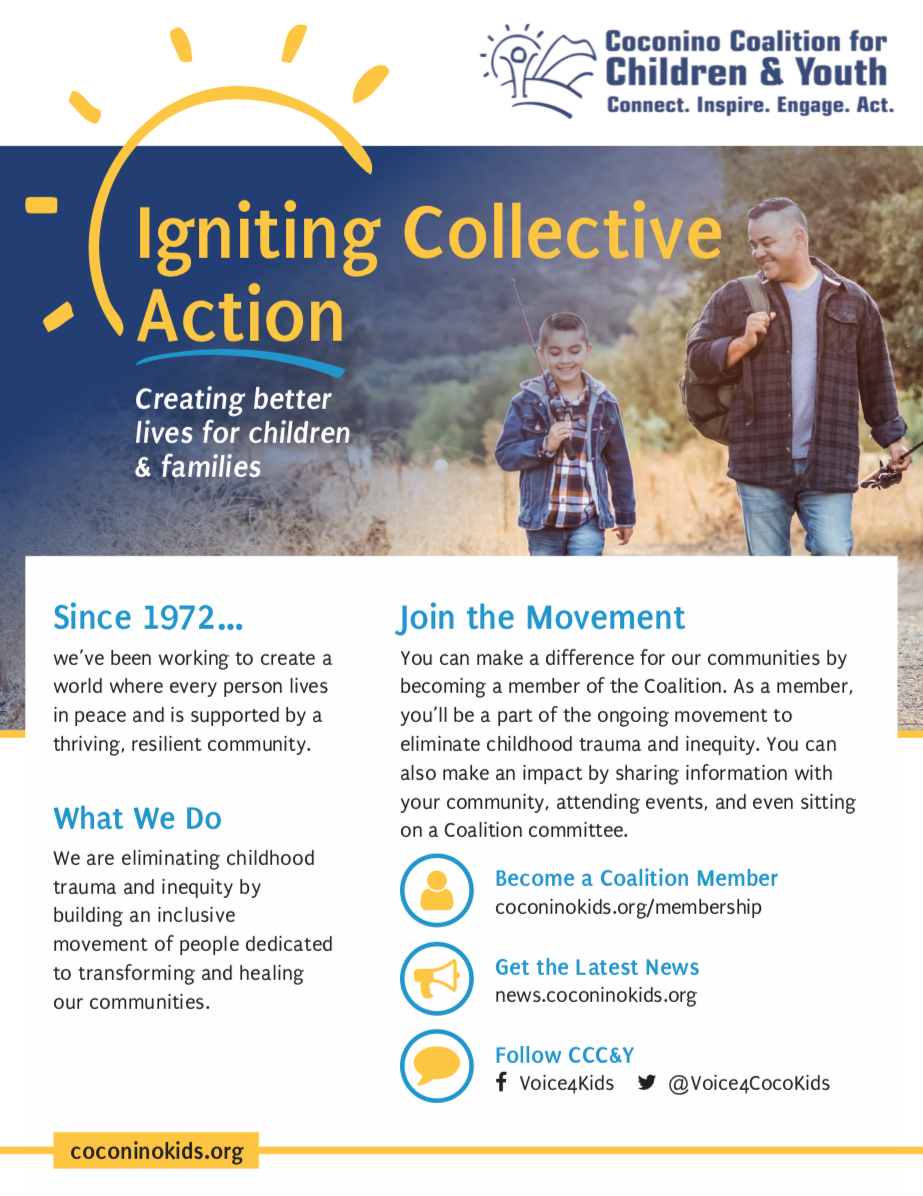 By the Coconino Coalition for Children & Youth
At Coconino Coalition for Children & Youth, we're working towards a world where every person lives in peace and is supported by a thriving, resilient community. We'll make that vision a reality by igniting collective action that creates better lives for children and families.
To assist families this, CCC&Y continues to support and expand a variety of programs we have initiated in 2020 with the assistance of a variety of partners in the region and statewide. They include: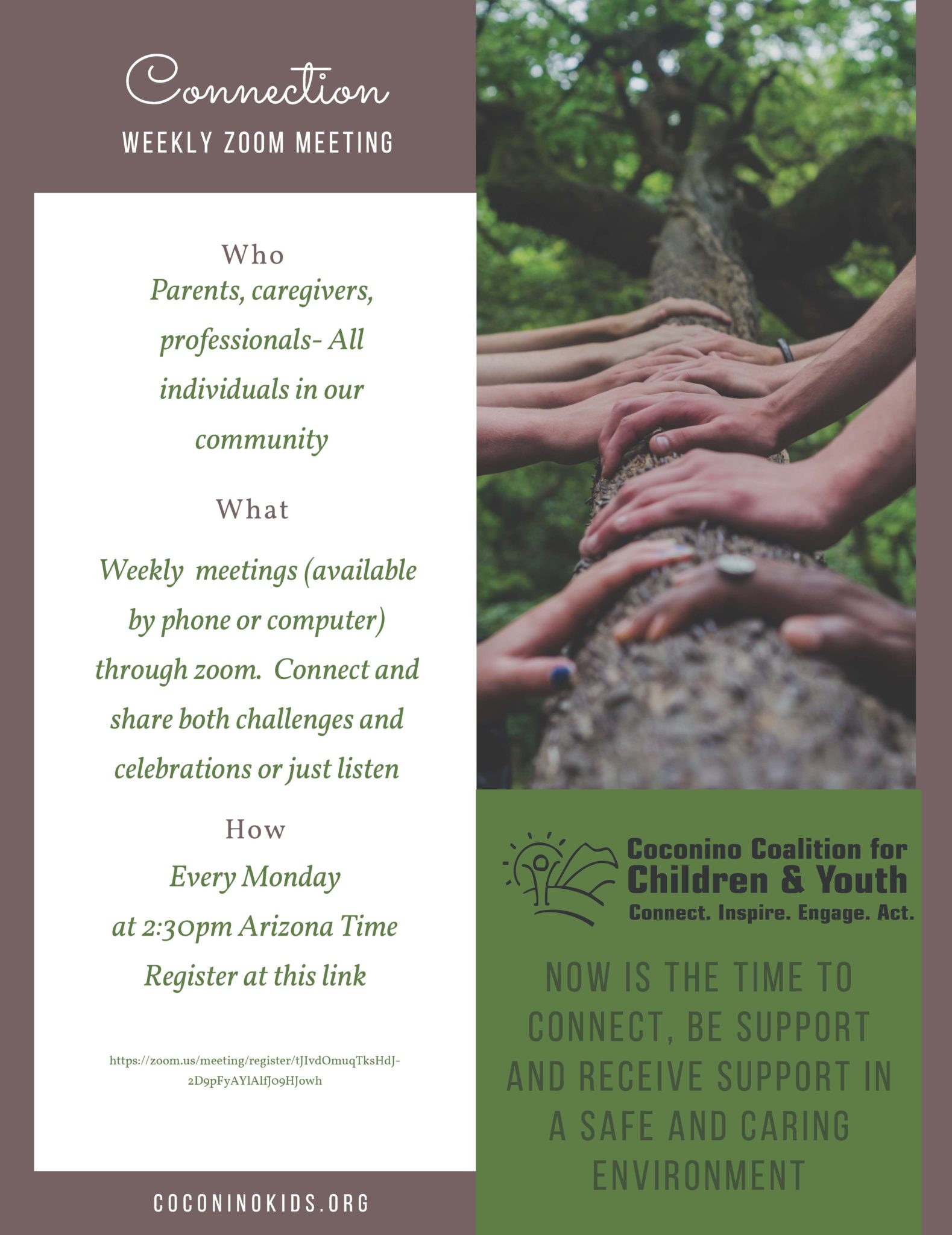 The CCC&Y Family Connection, hosted every Monday from 2:30-3:30. The bilingual Zoom meeting is is a great way to connect with others countywide. Folks can join virtually or by phone.
The meeting is open to parents, caregivers, professionals — All individuals in our community.
Now is the time to connect, be supportive and receive support in a safe and caring environment via zoom or by telephone.
This is an open time to connect with others, share joys, vent some concerns, ask for support, or offer others your support. REGISTER HERE
A variety of resources are also available for families and local professionals who work with families on CCC&Ys Prevention Webpage. Those resources include:
All the webinars and additional information can be found at: https://coconinokids.org/prevention/
There is no charge for the webinars, but we do ask that you consider sharing with others and completing the survey.
For further research and data related childhood trauma, resiliency, substance use and statistics for Coconino County please read CCC&Y's Youth Prevention Plan & Needs Assessment
***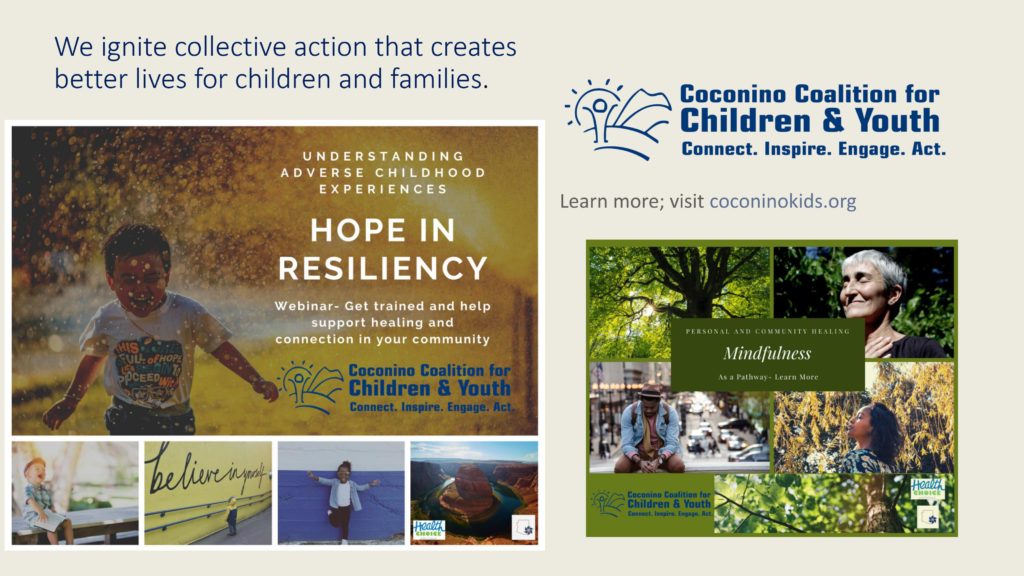 To learn more about about CCC&Y, please see our new Public Service Announcement. While members of CCC&Y want to wish you a beautiful holiday season, but also be aware the additional challenges facing family members and neighbors this year.
"The holiday season is about joy, peace, giving and gratitude, but not everyone feels the magic. This year COVID fatigue can add stress already brought on by colder weather, shorter days or grief and loss."
Please listen to the full PSA HERE
Category: Advocacy, Child Welfare, Education, Health, Programs, Resources