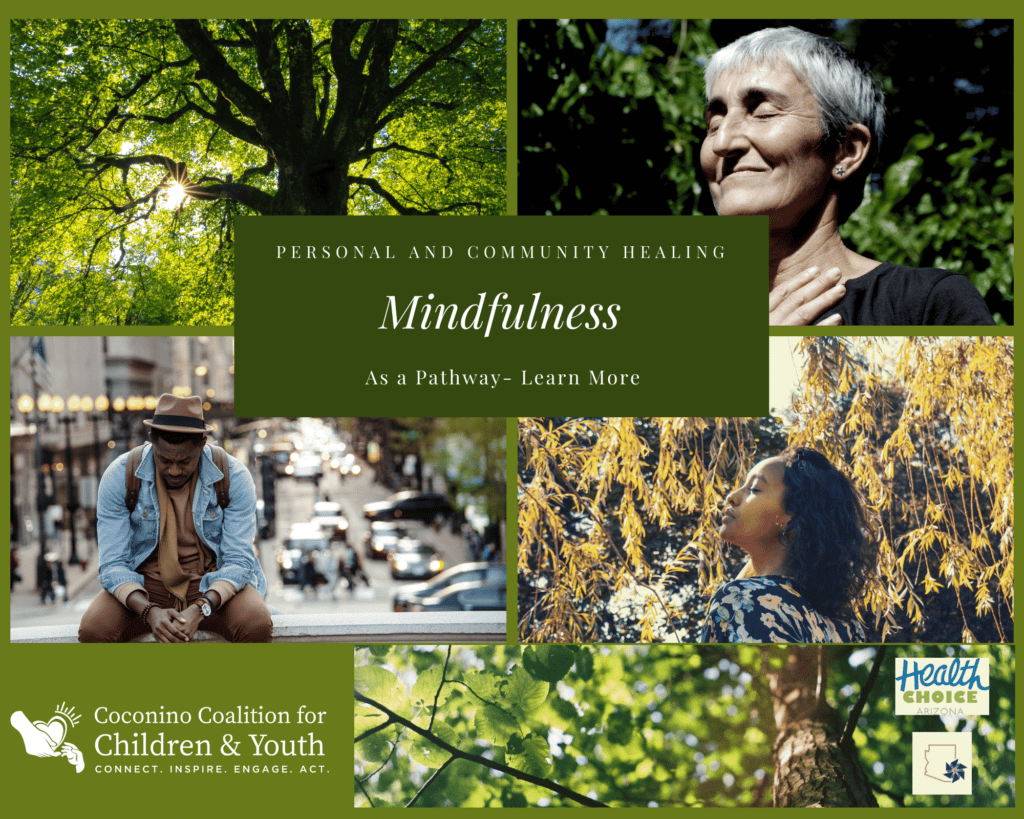 By the Coconino Coalition for Children & Youth
The Coconino Coalition for Children and Youth (CCC&Y), sees you! We see all the ways you support folks in your neighborhood and our community! You are helping to "bring back the village," and you're doing great!
Let's face it, life can be challenging, and too often, we are collectively stressed. Stress is normalized. We can acknowledge that some stress is good for us, keeping us thinking and maybe even providing us a boost to take necessary action. However, maintaining health requires that we offer ourselves opportunities to decompress. CCC&Y hopes you gift yourself with time to reconnect with yourself and those closest to you.
During this season of reflection, CCC&Y invites you to cozy up with some tea and a warm blanket and take a few mindful moments to recognize and honor your inner self and notice your thoughts, feelings, and sensations. ("Mindfulness for Parents and Professionals"). If our opportunity for Mindfulness feels supportive to you, we invite you to share it with others.
As nurturers, many of us also want to support others. Yet, so often this season, we think support comes as a material gift. However, one of the greatest gifts we can give another is our presence. We can be there with someone to listen to their stories of joy or challenge. We can recognize and acknowledge their strengths.
So, this season CCC&Y invites you to share the gift of your presence. We encourage you to genuinely listen, be empathetic, and affirm the strengths you see in others! A simple, "I see you doing your best!" or "How can I help?" can mean the world to your neighbor! All are no-cost ways to strengthen our community by reducing caregiver stress, a precursor to child abuse and neglect.
So, as you move about town in your daily life, whether at the grocery store, a department store, a restaurant or out in nature, share a simple smile with others. If you haven't already, meet your neighbors. Give a wave. Join a community event, maybe one where you can share time with folks who are "different" than you…and learn about a different culture. We can each let go of judging others and instead focus on authentically supporting both ourselves and others in our collective community.
We'd love to hear how YOU replenish yourself, create wellness, or uplift your community! Email rene@buildingcommunityflagstaff.com to share your story. We'd love to listen. You can also email to schedule no-cost Mindful Moments or Lean On Me info sessions for your personal or professional networks.
Please prioritize yourself! Take good care. And, if no one has reminded you lately, you're worth it!
About the Coconino Coalition for Children & Youth —
Our Mission: Igniting collective action to cultivate, honor & empower resilient, thriving communities.
Our Vision: We envision a holistic community where all children of Coconino County are increasingly free from trauma experience and all have equitable opportunities that build resiliency.
Category: Education, Educational Opportunities, Health, Programs, Resources