Aaron Secakuku is the Pathways Program Director and a CCC&Y Board member.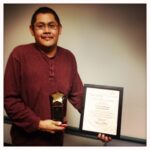 We wish you Congratulations, Aaron!
Also recognized for their devotion to Out-of-School Time Programming and their achievements:
Dr. Kent Scribner was recognized as the 2014 Out-of-School Time Champion for his state-of-the-art work with high school out-of-school time programs as superintendent of Phoenix Union High School District.
Outstanding Out-of-School Time Professional – Melissa Jimro,
Jane Romatzke Leadership Award Winner – Dr. Lupita Hightower
Coconino High School's FIRST Robotics team, The CocoNUTS, won the STEM Superhero Award on November 12, 2014 in the Most Innovative STEM Club — Rural category.
They were recognized for their extensive outreach and efforts to spread FIRST Robotics throughout Arizona.
Learn more about them here at their site: The CocoNUTS.
Congratulations to you all and your commitment to the youth in your programs and schools
Category: Child Welfare, Events, General, Programs, Resources