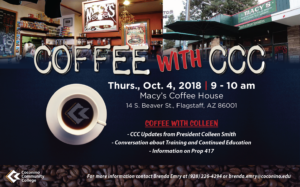 FLAGSTAFF — "Coffee with CCC," featuring updates from President Colleen Smith, will be held from 9 to 10 a.m. Thursday, Oct. 4 at Macy's Coffee House, 14 S. Beaver St., Flagstaff.
The event will also include:
Conversation about Training and Continued Education
Information on Prop. 417
Future "Coffee with CCC" talks will be held: 
10 to 11:30 a.m. Monday, Oct. 8, Matador Coffee, 7133 N. Highway 89, Flagstaff,
10 to 11:30 a.m. Tuesday, Oct. 16, White Dove Coffee Shop, 2211 E. 7th Ave., Flagstaff.
Contact Brenda Emry at928-226-4294 or send an email to brenda.emry@coconino.edu for more information.
Category: Education