You can make a difference in the life of a child. Let us buy you a cup of coffee and a pastry and tell you about CASA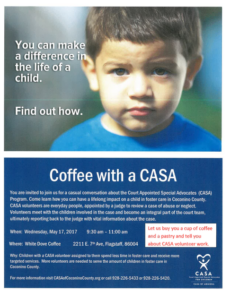 volunteer work.
You are invited to join us for a casual conversation about the Court Appointed Special Advocates (CASA) Program. Come learn how you can have a lifelong impact on a child in foster care in Coconino County. CASA volunteers are everyday people, appointed by a judge to review a case of abuse or neglect. Volunteers meet with the children involved in the case and become an integral part of the court team, ultimately reporting back to the judge with vital information about the case.
When: Wednesday, May 17
9:30am – 11am
Where: White Dove Coffee
2211 E 7th Ave
Flagstaff, AZ 86004
Why: Children with a CASA volunteer assigned to them spend less time in foster care and receive more targeted services. More volunteers are needed to serve the amount of children in foster care in Coconino County.
For more information, visit CASAofCoconinoCounty.org or call (928) 226-5420.
Category: Advocacy, Child Welfare, Health, Programs, Resources