Do you need assistance paying your electric, gas or propane bill? Coconino County Community Services/Social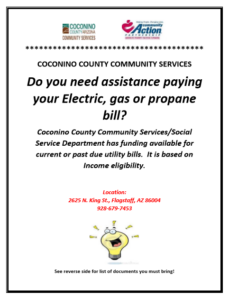 Service Department has funding available for current or past due utility bills. It is based on income eligibility.
Location: 2625 N. King St
Flagstaff, AZ 86004
(928) 679-7453
Remember to bring:
Original: Birth Certificates, CIB, current Passport or Certificate of Naturalization, Social Security (SSA, SSI or SSDI) award letters, or proof of current legal resident status for all house members
Original Social Security Cards or current Tax Return (which includes social security numbers) for all household members.
Current Driver's License or Photo ID for all household members over age 18
Current Food Stamp or SNAP award letter (if applicable)
Current Lease
Gross income for ALL household members for 30 days of date of Intake. (Includes: All paystubs, Social Security SA/SSI/and Disability Award Letters, Unemployment, Pensions, etc.). Bank statements are not acceptable.
Provide both current &/or delinquent Electric bills (not a door hanger)
If applying for move-in and rent eviction prevention, make sure you bring all the materials when you apply, otherwise you will be given a denial notice and will have to wait to apply the next month. Click here for more information about this process.