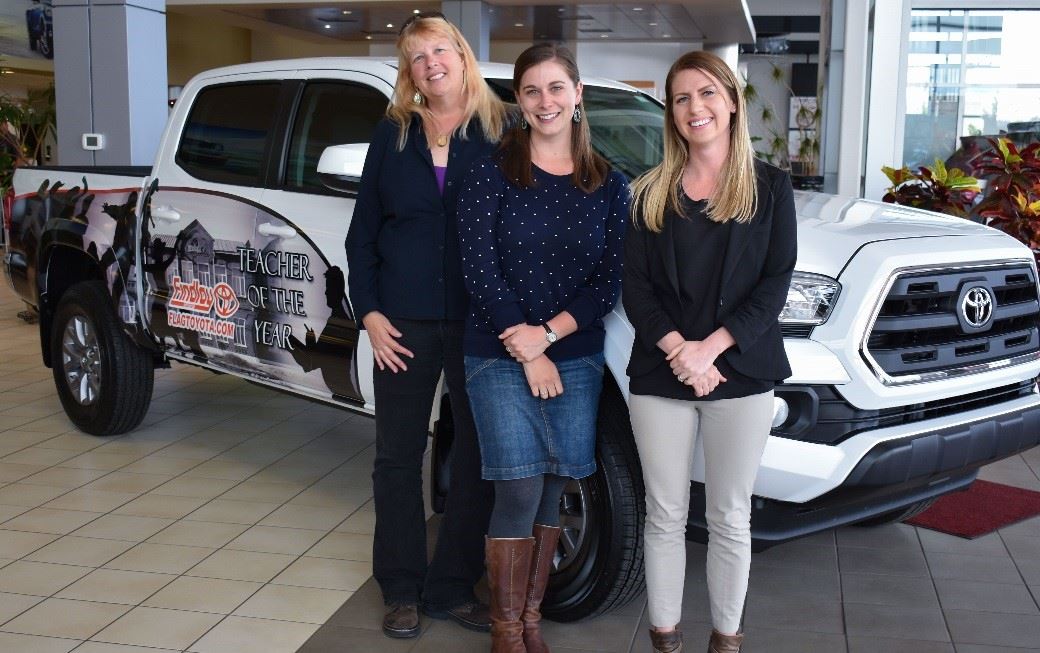 By CCC&Y
The office of the Coconino County Superintendent of Schools announced Sinagua Middle School's Jillian Worssam as the 2017 Teacher of the Year, according to a report in the Arizona Daily Sun.
Runners up for the awards, or Ambassadors for Excellence, were English teacher Angela Buzan of Coconino High School and special education preschool teacher Sara Zsenai of Cromer Elementary School, the Sun reported.
The announcement was made April 19 at the High Country Conference Center in Flagstaff.
Worssam, a science teacher, recently received the the 2017 Viola Excellence in Science Education Award.
Teacher of the Year (TOY) is the only countywide teacher recognition program that spotlights the contributions of state-accredited, full-time, public and charter school educators teaching pre-Kindergarten through 12th grade.
To be eligible for the TOY title, nominated teachers must personally complete an in-depth, multiple essay question application and submit it with three letters of support. A panel of judges score the applications using a rubric and group discussion to determine the top six candidates to interview. Next, the judges discuss, score, and determine the three finalists. The finalists are recognized and awarded cash prizes worth a total of $3000.
The winner will also receive a complimentary one year lease of a 2017 Toyota Tacoma from Findlay Toyota of Flagstaff. This event is funded entirely through sponsorships of local and statewide businesses, and community members.
"Congratulations to Jillian Worssam as the 2017 Teacher of the Year," the Flagstaff Unified School District reported on Thursday. "At the annual banquet, Ms. Worssam (8th grade science teacher at Sinagua Middle School) was named the 2017 Teacher of the Year and Angela Buzan and Sara Zsenai were named Ambassadors for Excellence. In addition to a cash award Ms. Worssam received a one year lease for a Toyota Tundra Truck, one Three-Credit Course from Coconino Community College and the opportunity to participate in the 4th of July Parade. FUSD Semi-Finalists for this award were Sheri Bain and Judith Arnold.
"Thank you Coconino County Superintendent Risha VanderWey, the award judges, Dr. Rita Cheng, Dr. Daniel Kain, 2016 Teacher of the Year Brian Locke, STEM City and the 2017 STEM Teacher of the Year Renda Fisk, Findlay Toyota and all of the sponsors for this great event honoring the hard work and dedication of all teachers," the district reported.
For more information, please contact the Superintendent of Schools office at 928.679.8070 or kgraves@coconino.az.gov.
Please see related story:
Category: General