Students get a FREE backpack when they get a Back-to-School shot or Sports Physical on Aug. 11 while supplies last.
By Coconino County
Coconino County is introducing "Super Service Saturday" Aug. 11, Sept. 8 to provide the with a one-stop location for a variety of their needs.
Services will include:
Immunization
Sexual Health Clinic
WIC Services
Financial Empowerment Workshops (registration required)
Rental/Utility Bill Assistance (by appointment)
Job Seeker's Resources
Educational Resources
Dog Licensing
Food Handler's Cerfication
More
*Regular Fees will Apply
The event will be held from 9 a.m. to 3 p.m. at 2625 N. King St., Flagstaff.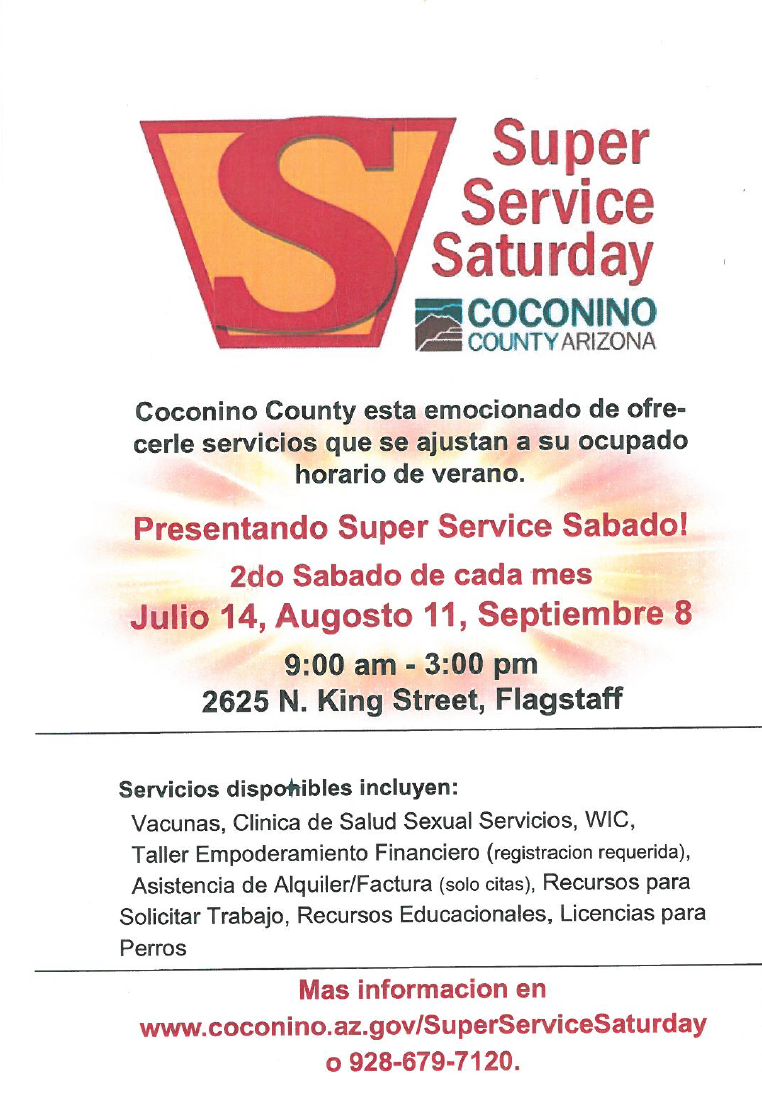 The three departments that are co-located in the Coconino County Health and Community Services Building serve some of the most vulnerable populations in Coconino County.
The clients served by the Public Health Services District, Community Services, and Career Center often struggle to meet basic needs, and rely on the services offered by these three departments.
As social service departments, we have an inherent responsibility to ensure that our services are accessible.
To continue to meet this responsibility, the three departments will implement a pilot program to host Super Service Saturdays the second Saturday of each month, July through September.
These Super Service Saturdays are days in which programs from each of the three departments will be open to clients.
Other programs and departments within Coconino County have also asked to participate in the program; including Supervisor Archuleta, Elections, and Human Resources.
Visit www.coconino.az.gov/SuperServiceSaturday or call 928-670-7120 for more information.
Category: Education