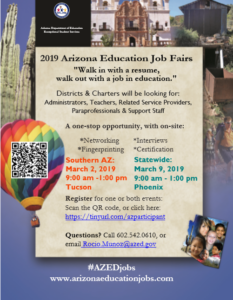 The Arizona Department of Education would like to announce their 2019 Southern Arizona Education Job Fair on March 2, 2019 and their 2019 Arizona Statewide Education Job Fair on March 9, 2019.  Please go to their free participation registration page to complete registration. These annual fairs are held exclusively for K-12 Districts and Charter School in support of their recruitment efforts.
This event is designed to help schools fill certified and non-certified positions and potential candidates to connect with community partners.  The following community partners are already registered to attend; they will be there to provide information about programs and resources:   Arizona Public Media, AZ Commission for Postsecondary Education, Express Employment Professionals,  Northern Arizona University, Pima Community College, Pima County Superintendent's Office, University of Arizona, and Treasures 4 Teachers.
Teachers/Educators are reminded to bring copies of their resume to the Southern Arizona Job Fair. Districts and charters from Southern Arizona will be interviewing candidates and collecting resumes for at least the following open positions: teachers, paraprofessionals, administrative assistants, bus drivers, maintenance, and administrators.
Included are two documents to assist you in becoming certified in Arizona.  The Alternative Teaching Certificate can be found HERE and the Subject Matter Expert Standard Teaching, 6-12 Certificate can be found HERE.  You can also find additional information about Arizona Teacher Certification HERE or you can call the Phoenix Office at 602-542-4367 or by email at certification@azed.gov.  The Phoenix Office is open 5 days a week from 8:30 a.m. until 4:30 p.m. and located at  1535 W Jefferson St. Phoenix, AZ 85007.  The Tucson Office is open 8:00 a.m. until 4:00 p.m. the First 3 Wednesday each month and is located at 400 W Congress St., Building 416 – 1st floor Tucson, AZ 85701
To set up a speak to visit your class/program or for additional questions, email Jay Johnson atJay.Johnson@azed.gov or call at 520-638-4719