Certificates of Completion will be given for those who complete the training. The certificate will meet CEU requirements according to Arizona Administration Code, Board of Behavioral Health Examiners-Social Workers, LPC, and LMFT standards. The amount of CEUs is equal to the number of hours of the training.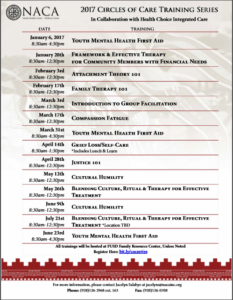 The next available training will be on February 3, 2017 titled Attachment Theory 101. In this training, we will:
Define attachment and how it's formed
Discuss factors that affect attachment
Explore high risk factors that affect attachment
Review John Bowlby and Mary Ainsworth's Attachment Theories and research
Watch videos demonstrating different kinds of attachment
Explore attachment in adulthood
Discuss different approaches to attachment in psychotherapy
CLICK HERE for information on different training sessions.
CLICK HERE to register for any of the training sessions.
Category: Educational Opportunities, Programs, Resources