The Circles of Care Project (COC) at NACA, Inc. is inviting community members, agency representativ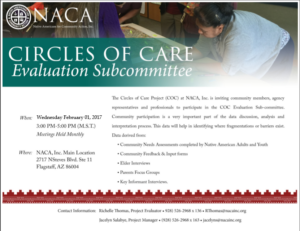 es and professionals to participate in the COC Evaluation Sub-committee. Community participation is a very important part of the data discussion, analysis and interpretation process.
This meeting will be held Wednesday February 1, 2017 from 3PM – 5PM at NACA, Inc. Main Location
2717 N Steves Blvd. Ste 11
CLICK HERE or on the picture for more information.