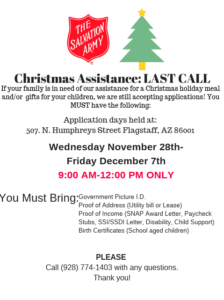 Last call! If your family is in need of the Salvation Army's assistance for a Christmas holiday meal and/or gifts for your children, they are still accepting applications! You MUST have the following:
Government picture ID
Proof of address (utility bill or lease)
Proof of income (SNAP Award Letter, paycheck stubs, SSI/SSDI Letter, Disability, Child Support)
Birth certificates (school aged children)
Application days held at: 507 N Humphreys St
Flagstaff, AZ 86001
When: Wednesday November 28 – Friday December 7th
9am – 12pm ONLY
PLEASE call (928) 774-1403 with any questions.