Children's Action Alliance:
There is a lot of sound and fury to take our attention this election season.  A new national poll shows that American voters recognize the importance of voting for kids.
The online poll, conducted this past spring by Hart Research Associates on behalf of the Children's Research Council, found nearly two-thirds of voters polled say the next president and Congress should invest more in children, including in education, health and nutrition programs that benefit kids. Further, respondents say they are more likely to vote for a candidate who commits to making children's issues a priority.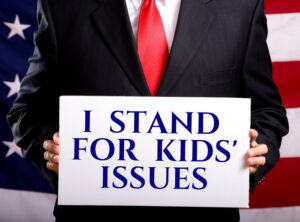 Voters' interest in children crosses party lines. A majority of Republican parents, Independent parents, and Democratic parents believe children would be better off if government did more to support parents and families by making education, child care, nutrition, and children's healthcare more affordable.
Members of the Arizona legislature are also important policymakers at the state level, voting on education funding and a variety of other bills that affect working families. Every seat is up for grabs this cycle, and we want to provide as much information as possible so you can make an informed choice.
Children's Action Alliance surveyed candidates for the Arizona legislature on issues affecting conditions for kids and made the unaltered responses available on our web site. If you aren't sure of your district, you can find out here.