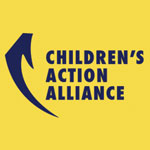 By Children's Action Alliance (CAA)
The Arizona legislature and Congress are back at work this month and we have good news for children and families.
First, Congress has approved funding for the Children's Health Insurance Program (CHIP), known in Arizona as KidsCare, for the next six years – a big win after funding expired last September 30th. Arizona now has guaranteed 100% federal funding for KidsCare through September 2019 and 91% federal funding for the year after that.
Second, the legislature's House Health Committee last week approved HB 2127 without opposition, a measure that prevents an automatic freeze on KidsCare when federal funding dips below 100%. KidsCare was reinstated in 2016 after being closed to new enrollment in 2010 and provides affordable health coverage for more than 24,000 (and rising) Arizona families.  HB 2127 now heads to the full House for further consideration.
You can join us in supporting this bill and other bills that promote children's health, education, and security.
See our top bill list that we will update regularly.
Please see related stories: 
Category: Education