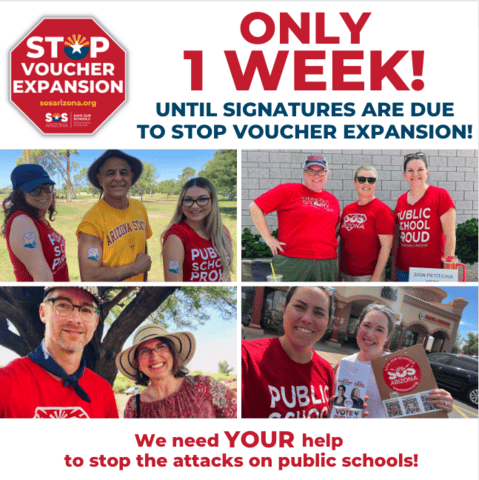 Hello,
We're down to the wire to stop another attempt by the legislature to ignore the will of voters. They are again trying to dismantle public education and expand ESA vouchers which YOU have told them repeatedly, you do not support.
The petitions to stop this ill-advised expansion are due NEXT FRIDAY, Sept. 23rd. We need everyone to get a petition and get 10 signatures in 5 days! You can find petitions at teamsosarizona.com. You can also find locations to sign a petition if you haven't already done so.
There are just 8 days left to protect our public schools against the devastating loss of $1 billion in public funds every year that will instead go into private pockets. What you do between now and then will make all the difference.
Please plan now for how you will sign and get your petitions notarized and returned. Here is the SOSAZ notary network: teamsosarizona.com/notary
SOSAZ has events statewide with notaries on-site to make returning seamless. Find an event near you at teamsosarizona.com
Remember – every single signature counts! Let's celebrate getting your voices heard!
Category: Advocacy, Education, Educational Opportunities, Programs, Resources