By the Coconino Coaltion for Children & Youth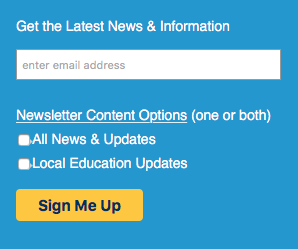 COCONINO COUNTY — The beginning of a 2019 offers an opportunity to start anew. Keeping with that spirit, the Coconino Coalition for Children & Youth will launch a redesigned weekly e-newsletter beginning Wednesday, Jan. 9, 2019.
The new once a week e-newsletter will offer many of the same features you have come to expect, including our weekly Education Spotlight.
It will also include a new Connections Spotlight, focusing on important local or state child health and welfare issues and programs; a focused local, state and national education news round-up; a new user-submitted, children and youth focused local calendar of events; a new CCC&Y online tool kit featuring quick links to our upcoming meetings, local and state education resources; local resource guides; legislative contacts and Arizona's Request to Speak system.
If you are already signed up for our Tuesday Connections or Thursday Education e-newsletters, you will automatically receive the new Wednesday-only e-newsletter.
New subscribers can click on the image above to go to our regularly-updated CCC&Y News website at https://news.coconinokids.org, and then click on the blue box on the right-hand side to SIGN ME UP.
Starting Dec. 28, we will take a short break with our existing e-newsletters as we prepare for our new Wednesday-only e-newsletter.
Thank you very much for supporting the work of Coconino Coalition for Children & Youth.
Your assistance is very much appreciated.
About the Coconino Coalition for Children & Youth: CCC&Y works to ensure all children and youth in Coconino County have the resources and support they need to reach their full potential. For more than 40 years, CCC&Y has acted as a countywide communication link, bridging and supporting services for children and youth. Through advocacy, prevention, education and community partnership-building, CCC&Y has built a strong, extensive network of families, providers, leaders and communities all striving to improve the lives of young people.
Category: Education