The University of Arizona Cooperative Extension Office of Coconino County is an approved agency that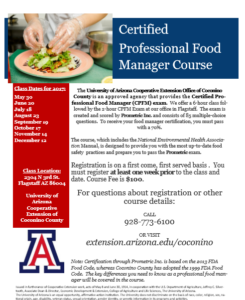 provides the Certified Professional Food Manager (CPFM) exam. We offer a 6-hour class followed by the 2-hour CPFM Exam at our office in Flagstaff. The exam is created and scored by Prometric Inc. and consists of 85 multiple-choice questions. To receive your food manager certification, you must pass with a 70%.
Registration is on a first come, first served basis. You must register at least on week prior to the class and date. Course Fee is $100.
For question about registration or other course details:
Call (928) 773-6100
or visit extension.arizona.edu/coconino
The next available class date in June 20, but follow the link here or click on the flyer to find out more dates.
Class location:
2304 N 3rd St
Flagstaff, AZ 86004
Category: Educational Opportunities, Health, Programs