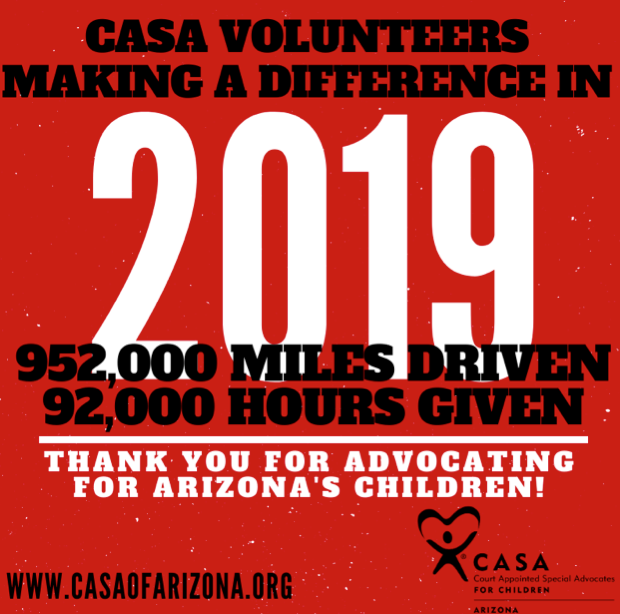 FLAGSTAFF — April is National Volunteer Month and CASA of Coconino County expresses their deepest appreciation for the men and women who stand up for abused and neglected children in Arizona. These dedicated Count Appointed Special Advocate (CASA) volunteers are making a difference in children's lives, giving them a voice in court and advocating for their best interest.
This month is dedicated to honoring all of the volunteers in our communities as well as encouraging volunteerism throughout the year.
"One of the most gratifying things I've ever done is helping abused and neglected children navigate the overwhelming foster care system so they can find safe and permanent homes," says local CASA Volunteer, Becky Lewis. "It's an indescribable feeling to know I've made such a difference in the life of a child."
In 2019, approximately 1,200 CASA volunteers in Arizona contributed over 92,000 advocacy hours and drove more than 950,000 miles while advocating for children on their assigned case. CASA of Arizona and its volunteers have been advocating for abused and neglected children in Arizona for over 35 years and have served over 25,000 children.
CASA volunteers are not only efficient, they're effective, too. Studies have shown that a child in foster care that is assigned a CASA volunteer is more likely to succeed in school, more likely to find a safe, permanent home, and half as likely to re-enter the foster care system.
One person in a child's life who isn't paid to show up means the world to a child in foster care. Today, there are over 14,000 children in Arizona who have been removed from their homes due to abuse and/or neglect.
In Coconino County, only 1 in 3 children in foster care have an assigned CASA volunteer.
How can you make a difference? Become a CASA volunteer, TODAY! Court Appointed Special Advocates are everyday community members who donate their time to be the voice for a child. CASA volunteers visit with the children regularly. They follow the progress of the child's court case, speak with important people in the child's life, and report their observations back to the court so the judge can make informed decisions on behalf of the child.
Volunteers come in all shapes and sizes. No specific background or training is needed to become a CASA volunteer. Anyone 21 years of age or older, who can pass a thorough background check and complete 30 hours of free training, is encouraged to apply.
For more information, visit www.CASAofCoconinoCounty.org. Follow us on Facebook at https://www.facebook.com/CASAofCoconinoCounty/