By the Flagstaff Unified School District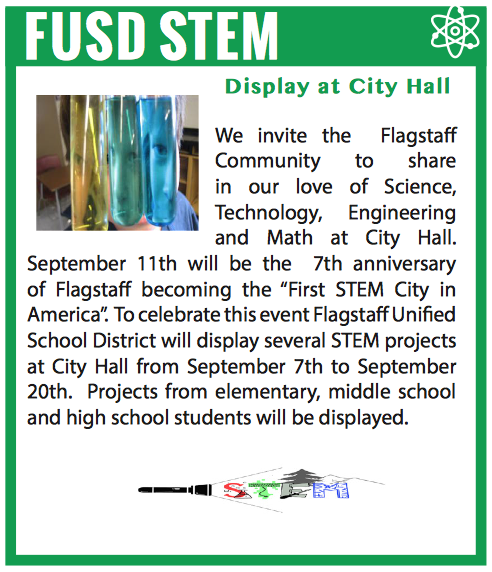 Flagstaff Unified School District (FUSD) and the City of Flagstaff will celebrate the sixth anniversary of declaring Flagstaff the "First STEM City in America" with displays STEM-focused displays from five FUSD schools in the lobby of City Hall. The displays will be available for public viewing from Sept. 7 through Sept. 21.
This celebration will feature interactive displays from the following FUSD schools:
Kinsey Inquiry and Discovery School (Elementary)
Marshall Arts and Science Magnet School (Elementary)
Killip Elementary School
Mount Elden Middle School
Coconino High School's CocoNuts Robotics Team
"Flagstaff's City Hall is proud to host this interactive display and highlight the work and accomplishments of our students, we encourage everyone to come out and see the displays" said City of Flagstaff Mayor Coral Evans. "We value and encourage STEM education in our schools and the important role STEM based businesses contribute to Flagstaff's economy."
FUSD offers wide variety of opportunities to students in our K-12 education system. The district takes offering well-rounded and rigorous options for all of our students very seriously. STEM education and economic development are vital to Flagstaff and its educations system.
"Flagstaff Unified School District is proud to celebrate Flagstaff as the 'First STEM City in America' and we are grateful for the City of Flagstaff and the community for supporting STEM education" according to FUSD. "After a great foundation at any of the 10 elementary schools, the secondary schools allow students to explore a variety of paths to future success. Middle school students can take advantage of an emphasis in language, expeditionary learning, pre-advanced placement or technology and engineering in addition to the variety of electives, which include music, art, culinary arts or woodworking. In our three high schools, students can continue the path they started in middle school through our high school programs and take advantage of the additional electives, which include; welding, autos, woodworking, engineering and theater arts. Students who do not have a chosen direction will most likely find something that sparks their interest through the options afforded them through FUSD schools. We are proud that all students are given the opportunity to "Discover Your Path" at FUSD schools."
For more information on the STEM Program and FUSD schools contact Karin Eberhard at 928-527-6004 or keberhard@fusd1.org.
More FUSD News:
Flagstaff Unified School District Open Houses through 31)
FUSD will hold its annual series of school open house nights through the end of August.
The schedule includes:
5 p.m. at Marshall Elementary, 5:30 p.m. at DeMiguel and Kinsey elementary schools, 6 p.m. at Sechrist Elementary and at Summit High School, all on Thursday, Aug. 24; 5 p.m. Monday, Aug. 28 at Flagstaff High School; 5:30 p.m. Tuesday, Aug. 29 at Mount Eldon Middle School; 6 p.m. Wednesday, Aug. 30 at Sinagua Middle School and 5:30 p.m. Thursday, Aug. 31 at Coconino High School. Visit https://www.fusd1.org or FUSD Facebook for more information.
FUSD Indian Education 2017-18 Back-to-School Night (Aug. 30)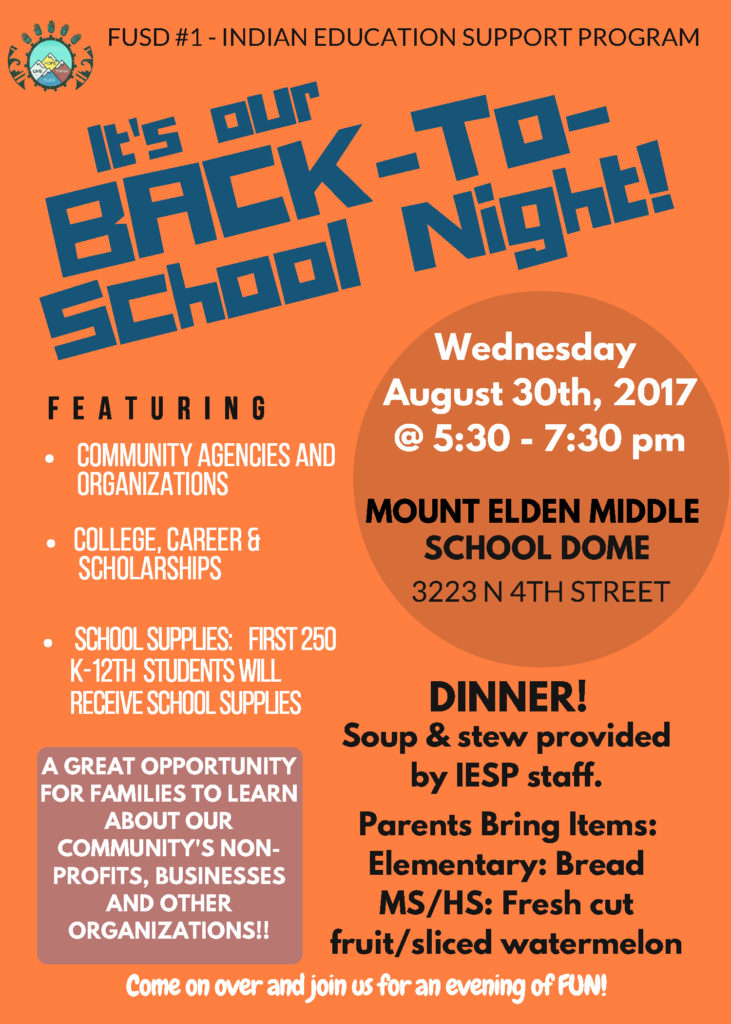 Exhibitors are being sought for the FUSD Indian Education Support Program annual Back to School Night to be held from 5:30 to 7 p.m. Wednesday, Aug. 30 at Mount Elden Middle School, 3223 N 4th St.
"We are requesting for community organizations to come and share information and resources available to families. This event will also allow organizations to promote their agency and services. Attached is a copy of the vendor/exhibitor form," said Andrew Qumyintewa.
Exhibitors can fill out the PDF, or scan the application and email it as an attachment or fax it to:
Elaine Kasch at ekasch@fusd1.org, fax: 928-527-6198
Category: General