Family and Community Training for Students (FACTS) will present a free "Lights On" Carnival from 10 a.m. to 2 p.m. Saturday, Sept. 12 at Bushmaster Park, 3150 N. Alta Vista Drive, Flagstaff.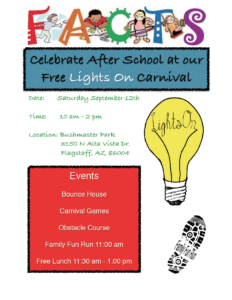 "Lights On" is an annual national event highlighting & celebrating the importance of providing quality programming for our children before school, after school, and other times of the year.
The event features bounce houses, carnival games, an obstacle course, with the family fun run starting at 11 a.m. and free lunch served from 11:30 a.m. to 1 p.m.
FACTS is taking applications for vendors to participate in the event.
Join us for a fun, family carnival and promote how you serve our children and community and rally for support of afterschool programs!
Click here to download an application.
Category: Events