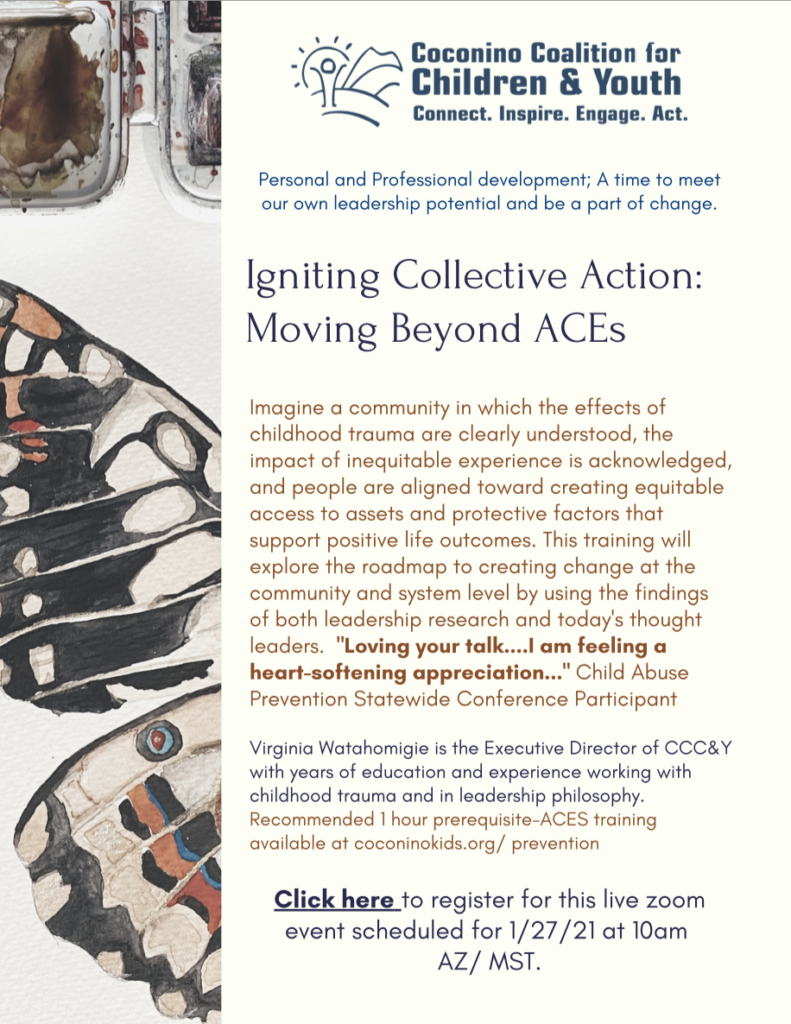 By the Coconino Coalition for Children & Youth
The Coconino Coalition for Children & Youth will present "Igniting Collective Action: Moving Beyond ACEs" at 10 a.m. Wednesday, Jan. 27 via Zoom. Click here to register.
Imagine a community in which the effects of childhood trauma are clearly understood, the impact of inequitable experience is acknowledged, and people are aligned toward creating equitable access to assets and protective factors that support positive life outcomes. This training will explore the roadmap to creating change at the community and system level by using the findings of both leadership research and today's thought leaders.
*Recommended one-hour prerequisite available for community members with limited background about the research on Adverse Childhood Experiences (ACEs) is available at https://coconinokids.org/prevention/
Virginia Watahomigie is the Executive Director of the Coconino Coalition for Children & Youth. CCC&Y ignites collective action that creates better lives for children and families, and we imagine a world where every person lives in peace and is supported by a thriving, resilient community. Virginia earned a Bachelor of Science degree in Psychology (minor in Family Studies) and a Master's degree in Administration (Leadership Emphasis) from Northern Arizona University. She additionally holds certification as an Integrative Nutrition Health Coach from the Institute of Integrative Nutrition in NY, NY. Previously, she served as a program director in Southern Arizona for Arizona Children's Association (AzCA), where she was responsible for the agency's Foster Care, Therapeutic Foster Care and ICPC (interstate compact) programs across five counties. She began her career working directly with youth in AzCA's residential treatment center. Virginia is the proud mother of a daughter who is a graduate with dual degrees in animal science and communication from Cornell University.