[slideshow_deploy id='9221']
Awards presented at the 2016 Child Abuse Prevention Conference and Luncheon
FLAGSTAFF — They include foster parents who for nearly a quarter of a century have been tireless advocates for children who are severely disabled, physically and mentally; a family advocate who helps children who are victims of abuse or neglect; a parent resource coordinator who helps maintain a food and clothing bank, conducts parent education classes and support groups at a rural school on the Navajo Nation; and a recreational specialist who provides caring one-to-one services to children in a substance abuse prevention program.
The Coconino Coalition for Children and Youth (CCC&Y) congratulates the 2016 Caring for Children Award recipients: Foster parents Sylvia and Stephen Blanchard; Florina Daniels, a family advocate at Safe Child Center in Flagstaff; Carolyn McCabe, a parent resource coordinator at Leupp Public School and Cody McMurry, a recreational specialist with Native American Community Action's Pathways Youth Program.
These individuals were recently recognized as the recipients of the 2016 Child Abuse Prevention Awards presented by the Coconino Coalition for Children & Youth at its annual conference and luncheon held March 31 at the Doubletree by Hilton in Flagstaff. The annual event was held in recognition of April as "Child Abuse Prevention Month."
The full day of activities also included workshops designed to help child abuse prevention providers learn how to energize their spirits to continue their important mission; how to use five key protective factors to strengthen families and prevent child abuse; tips on how to provide families with the resources they need and examples of successful prevention programs nationwide.
One of the highlights of the event was the presentation of the "2016 Child Abuse Prevention Awards." Honorees included:
[caption id="attachment_9224″ align="alignright" width="300″]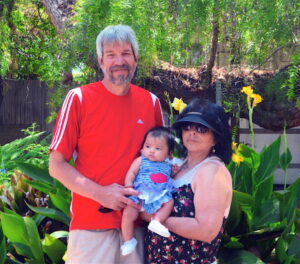 Stephen and Sylvia Blanchard. Courtesy photo.[/caption]
Sylvia and Stephen Blanchard, who have been foster parents for more than 23 years, providing children with loving care so they can have a meaningful and successful life in the future.
"Providing love and care for these foster children, all of whom have had stressful lives and most of whom are severely disabled, requires constant day-to-day imagination and innovation," according to their nomination letter. "Very few foster parents will take and keep children with severe disabilities and not only provide them with such affection and devotion, but also be willing and able to fight for necessary services."
Florina Daniels, a family advocate at Safe Child Center in Flagstaff, provides intervention services in a child-sensitive environment for children, some who have been witnesses to crime. The center promotes comfort with compassion and prepares children for a positive future.
"Over the course of her three years at the center, (Florina) was worked on more than 500 cases," according to one nomination letter. "Florina has spent her days not only making kids feel comfortable in an extremely uncomfortable situation, she has also jumped into one of the most important roles of her job of helping kids and their families to begin the healing process from the traumatic events, which have brought them to see Florina in the first place."
Carolyn McCabe, a parent resource coordinator at Leupp Public School, who conducts the eight-week family school involvement program (FAST) and a monthly follow-up program (FASTWORKS).
"(Carolyn) is well connected in the Leupp community and has developed many relationships with their families, increasing their knowledge of the importance of parent involvement in their child's school and academic," according to her nomination letter. "Living and working on the reservation, Carolyn has become the go-to person for the community in times of need. … She is very creative in her problem solving. She has purchased sheep from her families to make mutton stew for her meetings as well as assist the families financially."
Cody McMurry, who served as a volunteer for three years with Native American Community Action before becoming a recreational specialist with NACA's Pathways Youth Program in 2008. Pathways is designed for Native American at-risk youth (grades K-6) and their families in the Flagstaff community by providing youth with afterschool and weekend activities that promote self-esteem, educational enrichment, physical fitness, traditional practices and cultural values.
"(Cody) invests his time and energy into the well-being of these children and I know some of them have returned to let him know how he has impacted their lives," according to one nomination letter. "They are the reasons why he devotes his time and energy to this program and other similar campaigns for children."
More than 200 people registered for the annual luncheon, which featured guest speaker Claire Louge, training and outreach manager at Prevent Child Abuse Arizona.
"Prevention is the actions taken by people, communities, professionals and policy makers to ensure that a particular something doesn't happen. And the particular something that we're focused on is child abuse," Louge stated prior to the conference. "…We want to do everything we can to make sure families are strong and healthy, because when they are, our communities, our state — and most importantly, our children – thrive. The first step is awareness."
Louge also presented the pre-luncheon breakout session, "The Upstream Solution: What We Should All Know About Prevention."
The luncheon also included a moving Navajo prayer by Alyson Jeri Shirley and a candle lighting ceremony in honor of children who lost their lives due to abuse and neglect; the reading of Child Abuse Prevention Month proclamations by Flagstaff City Councilmember Eva Putzova and Coconino County District 2 Supervisor and Vice Chair Elizabeth Archuleta; and information on the "Field of Hope" flag display presented March 30 through April 3 by the Exchange Club of Flagstaff and Alpine Adoption at the Coconino County Courthouse Lawn.
More than 50 people registered for the 2016 Annual Educational Conference — "Strengthening Ourselves, Strengthening Our Practice," which began with a presentation by nationally recognized speaker and trainer Burt Gershater, who talked about "Answering the Muted Calls and Using Our Flame to Light Others."
"We all impact each other, whether we are doing it consciously or not. That is power," Gershater stated prior to the conference. "When we begin to accept that we really are more powerful than we ever imagined, we also realize it is our job to harness our power for the better."
For nearly four decades, Gershater has worked with corporate CEOs, company managers, nonprofit executives and teams, professionals from many different industries and top collegiate athletes.
The afternoon breakout sessions included "Strengthening Families Through the Protective Factors, Community Café — Strengthening Families," "Introduction to Mindful Self-Compassion Practice: Research & Informal Practices and Formal Practices and Applications to Work and Home," with the closing session presented by Louge on "Prevention Works," highlighting examples of child maltreatment prevention including the video "Building Community, Building Hope," created by the Children's Bureau.
The conference was sponsored by the Child Welfare Training Project at NAU, the Exchange Club of Flagstaff, Health Choice Integrated Care, Northern Arizona Healthcare, the Northern Arizona Health Education Centers (NAHEC), the Northern Arizona University Social Work Program, Nestlé Purina and the Williams Child Abuse Prevention Council. The NARBHA Institute (formerly Northern Arizona Regional Behavioral Health Authority) was the luncheon sponsor.
Proceeds from the luncheon and conference will support the Coconino Coalition for Children & Youth's prevention, community education and child advocacy efforts throughout the year.
About the Coconino Coalition for Children & Youth: CCC&Y works to ensure all children and youth in Coconino County have the resources and support they need to reach their full potential. For more than 40 years, CCC&Y has acted as the countywide communication link, bridging and supporting services for children and youth. Through advocacy, prevention, education and community partnership building, CCC&Y has built a strong, extensive network of families, providers, leaders and communities, all striving to improve the lives of young people.
Visit www.news.coconinokids.org, call 928-679-7318 or send an email to info@coconinokids.org for more information.
Category: Advocacy, Child Welfare, General