Resources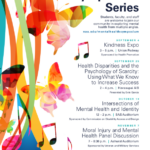 The NAU Mental Health Symposium Series continues with:
"Intersections of Mental Health and Identity," noon to 2 p.m. Thursday, Oct. 10 at SAS Auditorium, Northern Arizona University. Sponsored by the Commission on Disability Access and Design.
"Moral Injury and Mental Health Panel Discussion," 7 to 8:30 p.m. Thursday, Nov. 7 at Ashurst Auditorium. Sponsored by Veterans and Military Services.
"Epic Fail," 6 to 8 p.m. Thursday, Dec. 5, Cline Library Auditorium. Sponsored by ASNAU and SHAC.