Resources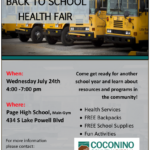 The Page Back to School Health Fair will be held from 4 to 7 p.m. Wednesday, July 24 at Page High School, 434 S. Lake Powell Blvd., Page.
Come get ready for another school year and learn about resources and programs in the community!
• Health Services
• FREE Backpacks
• FREE School Supplies
• Fun Activities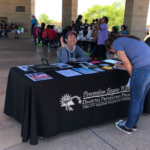 Hoop games and a bounce house for children, health and wellness information for parents — all could be found at the "Family Fun Day" wellness fair held June 19 at the Louise Yelloman Park in Tuba City.
Presented by the Coconino County Public Health Services District and AZ Health Zone, the celebration drew classes of school children, individual families and others to the park where health and community service organizations provided games for children and health information for parents including diabetes awareness, car safety seats and health food alternatives.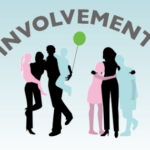 FrameShift Group (FSG) in partnership with the Family Involvement Center (FIC) Flagstaff office will assist the Coconino Regional Partnership Council (Council) in fully understanding the need to and interest in expanding the Well-Child and Family Care Strategy in the northern portion of the region, including the communities of Page, Fredonia and unincorporated communities of northern Coconino County, which includes communities on the Navajo Nation in the county.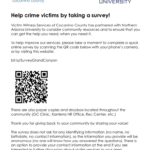 Victim Witness Services of Coconino County has partnered with Northern Arizona University to consider community resources and to ensure that you can get the help you need, when you need it.
To help improve our services, please take a moment to complete a quick online survey by scanning the QR code below with your phone's camera, or by visiting this website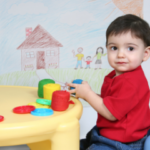 Great news for Arizona children and families!  As a part of the state budget recently passed, the legislature finally granted the Department of Economic Security (DES) the authority to expend $56 million in new annual federal child care money.  
DES moved at lightning speed to begin using these new dollars to increase scholarship rates and to serve more children. Thank you to all the parents, champions, and partners who called for investment of these funds in these three changes: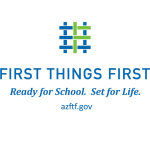 You still have time to submit a nomination for the Eddie Basha Regional Partnership Council Excellence Award as the deadline has been extended until Sunday, June 30, 2019.
The award recognizes a First Things First regional partnership council for inspiring its local community to come together and promote positive and lasting change in support of young children.

Want Priority Seating for your staff at the Conference?
Announcing our NEW Group Registration Special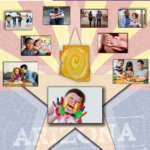 The Arizona Town Hall has created the comprehensive report "Strong Families Thriving Children," that discusses various aspects of family life including the systems that exist to support them, ways families can have more positive experiences, and some of the struggles families face that compromise their life experiences.
Arizona Town Hall officials expect the report to be used a resource on this topic for years to come.
Virginia Watahomigie, M.ADM, executive director of the Coconino Coalition for Children & Youth, contributed to the "Community Capacity" section that begins on page 84 of the report.
"Arizona nonprofit agencies play a crucial and cost-effective role in the state's prevention strategies and response to child welfare issues. Generally, missions of nonprofit agencies are geared toward meeting the long-term needs of our children and families, making nonprofits a strong defense and response system for the needs of our communities," Watahomigie reported.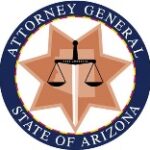 Basic Victims' Rights training will be held from 9 a.m. to 3 p.m. Tuesday, June 11 at the Law Enforcement Administration Facility, 911 E. Sawmill Road, Flagstaff.The Basic Victims' Rights presentation is highly recommended for employees new to victims' rights or for anyone who needs a refresher. Content covers fundamental information about victims' rights for adult and juvenile crimes in Arizona.