Health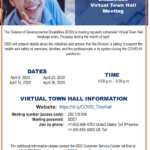 The Division of Developmental Disabilities (DDD) is hosting regularly scheduled Virtual Town Hall meetings every Thursday during the month of April.
DDD will present details about the initiatives and actions that the Division is taking to support the health and safety of members, families, and the professionals in its system during the COVID-19 pandemic.
The meetings will be held from 6 to 8 p.m. April 16, 23, 30.