Health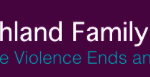 When every day is wall-to-wall coronavirus coverage, you forget that there are other emergencies and hardships – ones that predated the pandemic – that continue to affect the lives of northern Arizonans.
Domestic violence. Child abuse. Crime.
Which is why we are so pleased to report that your donations are a big reason why the Northland Family Help Center (NFHC) is continuing to fulfill its mission to provide a safe haven, advocacy, counseling and educational resources to promote and restore healthy relationships.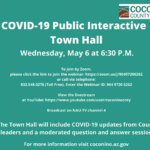 Coconino County will hold a public interactive Town Hall on Wednesday, May 6 from 6:30 p.m. to 8:00 p.m. using Zoom Video Communications (Zoom). The meeting will also be streamed on Coconino County's YouTube channel and broadcast on NAU-TV.
"Coconino County has been leading the COVID-19 response as the public health agency for our region," said Coconino County Supervisor Liz Archuleta, Chair of the Board of Supervisors. "The County is hosting this town hall to provide brief reports on the status of the COVID-19 response and engage with questions and concerns that our residents have. We hope that you will join us via Zoom or livestreams on YouTube or NAU-TV to learn more and get your questions answered."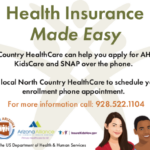 North Country HealthCare can assist families and children apply for benefits such as AHCCCS and SNAP over the phone by calling 928-522-1104.
Call your local North Country HealthCare to schedule your FREE enrollment appointment.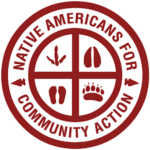 This brief survey is provided to gain an idea of the impacts that have come as a result of the COVID-19 pandemic.
Please note that due to funding restrictions within our grants we cannot meet many of the needs covered in this survey. However, we can connect you with resources that may be able to meet those needs.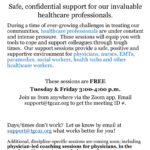 During a time of ever-growing challenges in treating our communities, healthcare professionals are under constant and intense pressure. These sessions will equip you with tools to cope and support colleagues through tough
times. Our support sessions provide a safe, positive and supportive environment for physicians, nurses, EMTs, paramedics, social workers, health techs and other healthcare workers.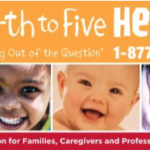 It's been a few weeks now of "stay-at-home" life. We have children home from school and child care, parents working from home, many families find themselves out of work and, on top of this, the news transforms each day before our eyes.
This is a time when we need one another and reaching out to a friend or family member to say hello can be very helpful. But what else can we do to manage our needs as adults? And what can we do to help and support our young children? If you find yourself having more difficulty than expected, seeking out a professional to talk with is a good idea.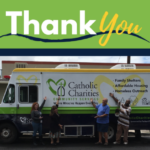 In case you missed it, Catholic Charities, the nonprofit recently named Flagstaff's "Organization of the Year," wanted to share a message with those of you who have given to the United Way of Northern Arizona COVID-19 Fund:
"Thank you."
UWNA recently awarded $15,000 to the nonprofit to help it continue its mission of "helping our community's most vulnerable with solutions that permanently improve lives."
Here's a small list of what Catholic Charities provides every day to assist families and children in northern Arizona:
Recruiting and supporting families providing foster care for children. This is a particularly crucial need; in Arizona, it's estimated there is only one licensed foster family for every four children who need care.
Programs that keep families together and prevent child abuse by helping families identify and make changes to promote safety, health and stability in the home. …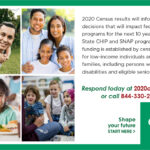 #2020Census results will inform decisions that will impact federal programs for the next 10 years. State CHIP and SNAP funding is established by census data for low-income individuals and families, including persons with disabilities and eligible seniors. To fill out your census, please visit 2020census.gov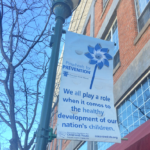 Everything is new right now! We are all experiencing stress in some form or another. Sometimes it might feel overwhelming. Remind yourself, "I am enough!"
You are your greatest priority! So, please take some mindful breathes and observe your thoughts, feelings, and sensations at this moment with an attitude of nonjudgement. What do you notice? How will you respond to what you noticed?