Health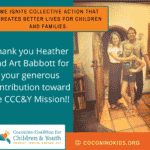 In this season of giving, CCC&Y wishes to celebrate Heather and Art Babbott and their family for their extraordinary contribution toward the CCC&Y Mission.
The Coalition relies on the generous help of our supporters, community partners and members to eliminate childhood trauma and inequity by building an inclusive movement of people dedicated to transforming and healing our communities. Through leadership, education and advocacy, we are reconnecting children and families to the greater community and their own potential.
Our Mission:
Igniting collective action to cultivate, honor & empower resilient, thriving communities.  
Our Vision:
We envision a holistic community where all children of Coconino County are increasingly free from trauma experience and all have equitable opportunities that build resiliency.  
We could not accomplish our mission without the support our funding partners and our more than 100 members.