Health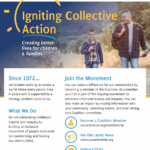 At Coconino Coalition for Children & Youth, we're working towards a world where every person lives in peace and is supported by a thriving, resilient community. We'll make that vision a reality by igniting collective action that creates better lives for children and families.
To assist families in the coming year, CCC&Y will continue to support and expand a variety of programs we have initiated in 2020 with the assistance of a variety of partners in the region and statewide.They include:
The CCC&Y Family Connection, hosted every Monday from 2:30-3:30. The bilingual Zoom meeting is is a great way to connect with others countywide. Folks can join virtually or by phone. …
A variety of resources are also available for families and local professionals who work with families on CCC&Ys Prevention Webpage.