General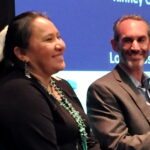 At the end of the presentation of the documentary "Teaching in Arizona," someone said how happy they were that Tia Lei Tsosie-Begay — a 4th grade teacher at Los Ninos Elementary in Tucson who was featured in the film — still remained teaching to this day at her school.
In fact, many in the standing-room only audience became truly invested in the lives of those Tucson teachers, who struggled with overcrowded classrooms, shrinking educational funding and tempting offers for better paying jobs out of the state.
The documentary, which was presented Oct. 17 in the McGee Auditorium at Flagstaff Medical Center, provided an inside look at what it is like to be a classroom teacher. It brought to life the issue of teacher recruitment and retention by telling the personal stories of three teachers in public schools in Arizona.