General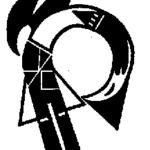 Flagstaff public library has released their calendar of events for January for both main and East locations!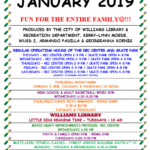 City of Williams Library & Recreation Department has released their January 2019 Calendar of activities. Don't miss the fun for the whole family!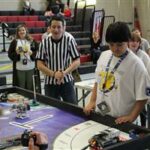 The Coconino High School "CocoNuts" FIRST Robotics Team hosted its 11th annual Flagstaff FIRST Lego League Tournament on Dec. 8. Twenty-three teams of fourth through eighth graders from all over Northern Arizona competed in this year's game "Into Orbit." The "Into Orbit" game challenged teams to examine problems humans might encounter during long-term space flight.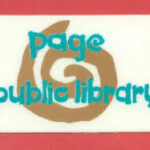 Page Public Library has released their Children, and Adult and Teen Calendar of events for December.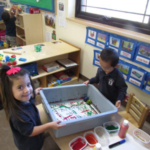 In Flagstaff, the oldest continually run Catholic school in the state now boasts an award-winning preschool. While the school itself includes classes up to grade eight, the preschool is preparing local three- and four-year-olds for their foray into kindergarten.
With two preschool classrooms for 39 students, San Francisco de Asis Catholic School (SFdA) was recently honored with a five-star rating through Arizona's First Things First Quality First program. The rating is the highest available and a first for the First Things First Coconino region.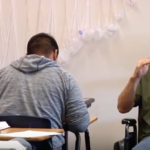 This week's Teacher of the Week is Peter Holloway, a teacher at Ponderosa High School. He started off teaching at a juvenile detention center, where he says he learned that honesty is key to helping students succeed.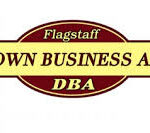 Meet Me Downtown brings adults and families to downtown Flagstaff for a weekly social walk/run, engaging individuals and businesses in a vibrant event that showcases downtown Flagstaff as a prime location for healthy activities.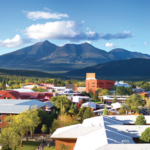 Northern Arizona University announced recently that it is participating in a massive new effort with 130 public universities and systems to increase college access, close the achievement gap and award hundreds of thousands more degrees by 2025.
The Association of Public and Land-grant Universities (APLU), which is organizing the collaborative effort, announced the Powered by Publics: Scaling Student Success at its 131st annual conference in New Orleans.
The participating institutions will work within "clusters" of four to 12 institutions as they concurrently implement innovative and effective practices to advance student success on their campuses. Collectively, the institutions enroll 3 million students, including 1 million students who receive Pell Grants.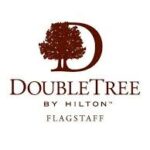 Thanksgiving Day Brunch at the DoubleTree Hotel in Flagstaff on November 22, from 10am to 3pm.