General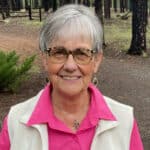 The Coconino Coalition for Children & Youth will present a special "Caring for Children Lifetime Achievement Award" to local educator Julianne E. Hartzell during its 50th Anniversary Celebration on Oct. 27.
"I just adore Julianne and I'm so excited to honor her in this way," said Virginia Watahomigie, executive director of CCC&Y. "She has been so very giving with her time, not just to me personally but to the organization as a whole.
"The contributions Julianne has made, and continues to make, have had tremendous impact on the organization and the wider community. We are very fortunate to benefit from her knowledge and giving nature."
Hartzell has volunteered her time to serve as a past board president for the Coalition, and currently serves on the group's Action & Outreach Committee.
Each year, the Coalition honors a group of members of the community throughout Coconino County for promoting the well-being of children and families.
To celebrate the group's 50th anniversary, the Coalition decided to create this special award.
Hartzell has long served youth in the region through various roles in the community, including as a long-time teacher in the Flagstaff Unified School District, a 12-year member of the FUSD Governing Board, as board member for CCC&Y, the FACT after-school program, the Flagstaff Community Foundation and the United Way of Northern Arizona.