General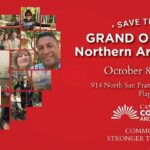 If you haven't already done so, please click here and register to join us on October 8th and 9th as we celebrate the Grand Opening of our Northern Arizona office.
We're very excited to be opening our doors for in-person programs and services in Flagstaff. Why? Because so many people in our community are impacted by cancer.
But as we know, community is stronger than cancer.
If you have a family member, friend or loved one who is facing cancer, knowing about Cancer Support Community Arizona gives you the opportunity to help them on a deeper level.
During our Grand Opening, you'll discover all the ways our free, comprehensive programs can provide education and emotional support to community members and their loved ones affected by cancer at any age, any stage, and any diagnosis.