Events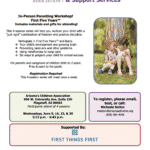 The Arizona's Children Association Family Education & Support Services will present the In-Person Parenting Workshop "First Five Years" from 5:15 to 6:45 p.m. Wednesdays, June 16, 23, 30.
Arizona's Children Association 906 W. University Ave. Suite 150 Flagstaff, AZ 86001
Includes materials and gifts for attending!
This 4-session series will help you nurture your child with a "just right" combination of freedom and positive discipline.