Educational Opportunities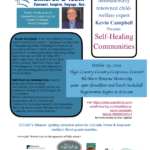 Hundreds of tickets have gone but we still have room. 
RSVP now for Kevin Campbell's presentation on "Self-Healing Communities," from 9 a.m. to 4 p.m. Tuesday, Oct. 29 at the High Country Conference Center, 201 W. Butler Ave., Flagstaff.
Tickets are $30 to $45. Click here to register.
We are excited to announce this has attracted statewide attention including local, state and federal representation as well as a policy analyst.  Ticket sales end in 2 weeks on Oct 13.