Education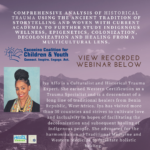 Historical trauma impacts so many of our community members and it is a topic that is not always openly discussed and well understood in mainstream society.  Further, it is often not considered when designing helping programs, systems or overall prevention programming and worse when placing judgements against groups of people. 
Each culture, each individual has their own story to tell, their own traditions, spiritual and cultural practices and so many have had those life components disrupted due to historical events and ongoing injustices.
During a webinar presentation held on June 9, 2020, culturalist and historic trauma specialist Iya Affo provided web viewers a brief overview of historic trauma to help inform community members, professionals and leaders about the creation and impacts of these traumas.  
Affo is the founder of Heal Historic Trauma and with Phoenix Rising in Residence (AZ).