Education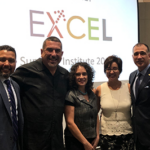 For first-generation college students, navigating a new school environment can be daunting. Succeeding academically once they enroll, and completing a degree are often hindered by the circumstances these students have to face, like working full-time when enrolled or caring for other family members. These students also don't have the benefit of drawing from their parents' college-going experience.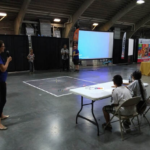 Coinciding with the 50th anniversary of the Apollo 11 lunar landing, Flagstaff had a variety of events celebrating the city's part in the achievement, including hosting a LEGO Robotics competition at NAU. Killip's team "The LEGO Side" took part in the Apollo Next Giant Leap Student (or ANGLeS) Challenge on July 19th and 20th. In this challenge, teams needed to fly and land a lunar module via drone in a particular location on a map of the moon's surface.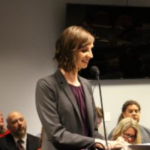 The Arizona State Board of Education will hold a meeting, open to the public, on Friday, August 9, 2019 from 2:00 – 5:00 PM and Saturday, August 10, 2019 from 9:00 AM – 2:30 PM at Northern Arizona University, S. San Francisco St., University Union Building 30 B/A, Flagstaff.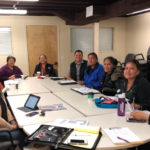 Yes, it's time for the monthly Tuba City Regional Networking Meeting, held the second Wednesday of the month from 10 a.m. to noon. The meeting is co-presented by the Coconino Coalition for Children & Youth and the Tuba City Public Library, with the support of the County of Coconino.
Guest speakers are always welcome. Next meeting is on Aug. 14.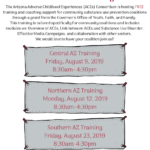 The Arizona Adverse Childhood Experiences (ACEs) Consortium is hosting FREE training and coaching support for community substance use prevention coalitions through a grant from the Governor's Office of Youth, Faith, and Family.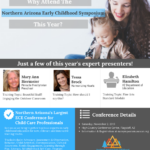 The Association for Supportive Child Care will present the annual Northern Arizona Early Childhood Symposium on Saturday, Nov. 2 at the High Country Conference Center, Flagstaff.
The Symposium is the Association's conference that brings Northern Arizona early childhood professionals together for training and community building. The Symposium features presenters from a variety of regions with a wide range of expertise in the field.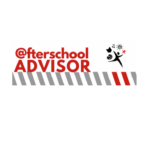 Back to School Resources for OST Programs
It's a new school year! Here are links to tips, tools and fun resources to help you and your kiddos get the year off to a great start!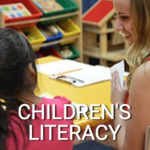 The Flagstaff Family Food Center is currently recruiting volunteers for our Children's Literacy Program! The food center helps to feed 150 – 200 families per day at our daily dinner service at the kitchen. During dinner service we have a special area called the reading room dedicated to helping children learn to love reading. The reading room provides a safe space for children to connect with volunteer mentors, receive homework help, and get the opportunity to read.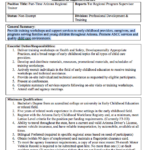 The Association for Supportive Child Care seeking a Part-Time Arizona Regional Trainer.
The position will provide training workshops and support services to early childhood providers, caregivers, and programs serving families and young children throughout Arizona.