Child Welfare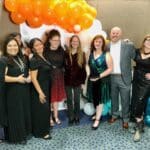 Thank you supporters of the Coconino Coalition for Children & Youth who attended our 50th anniversary celebration on Oct. 27, 2022 at the High Country Conference Center. We had representation of more than 20 organizations, and of course, and more than 200 guests who came out for a gala date night. 
The event was highlighted by the presentation of a special "Caring for Children Lifetime Achievement Award" to local educator Julianne E. Hartzell.
"I just adore Julianne and I'm so excited to honor her in this way," said Virginia Watahomigie, executive director of CCC&Y. "She has been so very giving with her time, not just to me personally but to the organization as a whole.
"The contributions Julianne has made, and continues to make, have had tremendous impact on the organization and the wider community. We are very fortunate to benefit from her knowledge and giving nature."