The deadline is approaching for our Caring For Children Award nominations. The person you thought of – fill out the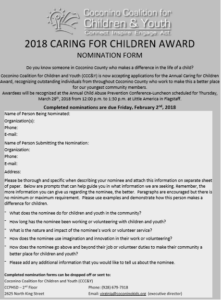 form for them here or click on the picture to the right. This is a tremendous honor and will be a great experience for all winners, but they can't win if you do not nominate!
Do you know someone in Coconino County who makes a difference in the life of a child?
CCC&Y is now accepting applications for the Annual Caring for Children Award, recognizing outstanding individuals from throughout Coconino County who work to make this a better place for our youngest members.
Awardees will be recognized at the Annual Child Abuse Prevention Conference-Luncheon scheduled for Thursday, March 29, 2018 from 12pm – 1:30pm at Little America in Flagstaff.
Completed nominations are due Friday, February 2, 2018
Category: Child Welfare, Events, General