Living in Two Worlds: Caregiving & Grief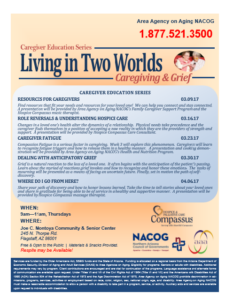 Dealing with Anticipatory Grief
March 30, 2017
9am – 11am
Grief is a natural reaction to the loss of a loved one.  It often begins with the anticipation of the patient's passing.  Learn about the myriad of reactions grief invokes and how to recognize and honor these emotions.  The  tasks of mourning will be presented as a means of facing an uncertain future. Finally, set in motion the path of self-discovery.
Where do I Go From Here?
April 6, 2017
9am – 11am
Share your path of discovery and how to honor lessons learned. Take the time to tell stories about your loved ones and share in gratitude for being able to be of service in a healthy and supportive manner.  A presentation will be provided by Hospice Compassus massage therapist.
Where: Joe C. Montoya Community & Senior Center
245 N. Thorpe Rd.
Flagstaff, AZ 86001
Free and open to the public; materials and snacks provided.
Category: Educational Opportunities, Events, Health, Programs, Resources