The monthly support groups take place in Flagstaff at the Cancer Centers of Northern Arizona (across the street from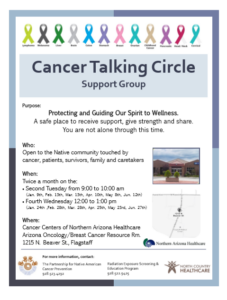 the hospital.) It's open to cancer patients, survivors, family, friends and caregivers. The next group takes place on Tuesday, March 13th at 9am. Healthy snack and local resources will be provided.
Purpose: Protecting and guiding our spirit to wellness. A safe place to receive support, give strength and share. You are not alone through this time.
Who: Open to the Native Community touched by cancer, patients, survivors, family and caretakers.
When: Twice a month on the:
Second Tuesday from 9 – 10am
Fourth Wednesday from 12 – 1pm
Where: Cancer Centers of Northern Arizona Healthcare
Arizona Oncology/Breast Cancer Resource Room
1215 N Beaver, St
Flagstaff, AZ