Registration is now open for the 2017 Area Agency on Aging NACOG Conference: Building Strong Communities.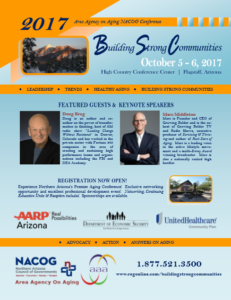 Experience Northern Arizona's Premier Aging Conference! Exclusive networking opportunity and excellent professional development event! Networking, Continuing Education Units & Reception included. Sponsorships are available.
This conference will occur October 5-6, 2017 in the High Country Conference Center in Flagstaff, AZ. Learn about healthy aging, how to build strong communities, and more with featured guests and keynote speakers such as Doug Krug and Marc Middleton.
Follow the link here to learn more about this event!
Category: Educational Opportunities, Events, Programs