Bright by Text is a free parent and caregiver messaging program that sends tips and resources promoting child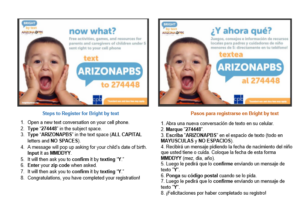 development, targeted to a child's age from 0 to 5 years old. It is designed to be relevant to today's families, providing quality information and trusted resources to any caregiver, including hard-to-reach, low income families and informal caregivers. The messages are comprised of research-based content from Bright by Three and other trusted providers, such as PBS Kids, PBS Parents, Vroom, Fred Rogers, and Sesame Workshop.
Topics include:
Child Development
Health and Safety
Newborn, Infant, and Toddler care
Language and Early Literacy
Nutrition and Eating
Behavior and Positive Discipline
Developmental Games and Milestones
In addition to messages keyed to a child's date of birth, Bright by Text can also deliver localized messages to a family based on their zip code! Follow the link here to learn more about this resource!
Click on the picture or follow the link here to learn how to register!
Category: Child Welfare, Educational Opportunities, Health, Programs, Resources