The Birth to Five Helpline app allows you to easily one-click call, text, or e-mail the Birth to Five Helpline early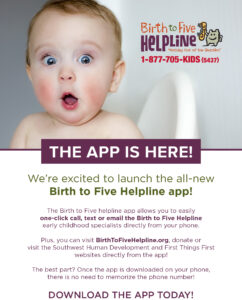 childhood specialists directly from your phone.
Plus, you can visit the website here, donate or visit the Southwest Human Development and First Things First websites directly from the app!
The best part? Once the app is downloaded on your phone, there is no need to memorize the phone number!
Download the app today!
Category: Advocacy, Child Welfare, Health, Resources